Rocks & Minerals Classroom Kits
NOTICE: Kits will not be available for shipping between November 1, 2014 and January 1, 2015
To order, complete the Classroom Kit Order Form and return by mail, email or fax. For more information, call (480) 929-0292 x143 or email (mbarkley@azhs.gov). 
Kits may be loaned for ONE month at no cost. However, a check must be left on file at the time of pick up.
Please submit order forms at least 2 weeks before you wish to receive the kit.
Have an old kit but no key? No worries! Just click HERE.
 Rocks & Minerals Classroom Kit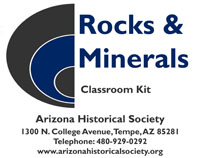 The Rocks & Minerals Classroom Kit includes 4 Hardness sets and 4 Rock Cycle sets. Hardness Set includes: Calcite, Feldspar, Fluorite, Gypsum, Quartz, and Talc. Rock Cycle Set includes: Basalt, Conglomerate, Granite, Gneiss, Sandstone, and Schist.
$10
Rocks & Minerals Homeschool Kit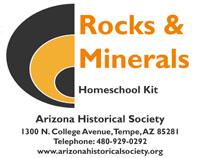 The Rocks & Minerals Homeschool Kit includes 1 Hardness set and 1 Rock Cycle set. Hardness Set includes: Calcite, Feldspar, Fluorite, Gypsum, Quartz, and Talc. Rock Cycle Set includes: Basalt, Conglomerate, Granite, Gneiss, Sandstone, and Schist.
$3
Rocks & Minerals Custom Kit
Custom Kit includes 30 specimens (any combination) of the following rocks and minerals: Amethyst (quartz), Apache Tears, Azurite & Malachite, Baryte, Basalt, Calcite, Chalcedony, Chalcopyrite, Chrysocolla, Coal, Conglomerate, Feldspar, Fluorite, Garnet, Glauberite, Gneiss, Granite, Gypsum, Limestone, Mica/Muscovite, Olivine (peridot), Petrified Wood, Phyllite, Pumice, Pyrite, Quartz, Sandstone, Schist, and Talc.
$35
Arizona Rocks & Minerals Classroom Kit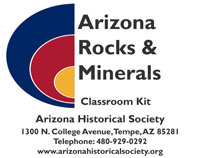 The Arizona Rocks & Minerals Classroom Kit includes samples of rocks and minerals found in Arizona. Kit includes 2 each of the following: Apache Tears, Azurite & Malachite, Baryte, Calcite, Chalcedony, Chalcopyrite, Chrysocolla, Coal, Garnet, Glauberite, Limestone, Mica/Muscovite, Olivine (peridot), Petrified Wood, Phyllite, Pumice, Pyrite, and Quartz (amethyst).
$20