NOTICE: Kits will not be available between November 1, 2014 and January 1, 2015
Beginning January 1st, 2015 we will begin using a new electronic order form. Please note other changes effective January 1st:
– Emailed, faxed, or mailed forms, and phone orders will no longer be accepted.
– Classroom kits will no longer be available for pick up from our Tucson location.
- Loaned kits will require an initial payment of the cost of the kit. Payments will be refunded when the kits are returned.
– Orders placed more than 2 months in advance will not be accepted.
For more information email (mbarkley@azhs.gov).
Kits may be loaned for ONE month at no cost.
Please submit order forms at least 2 weeks before you wish to receive the kit.
Have an old kit but no key? No worries! Just click HERE.
 Rocks & Minerals Classroom Kit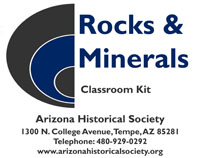 The Rocks & Minerals Classroom Kit includes 4 Hardness sets and 4 Rock Cycle sets. Hardness Set includes: Calcite, Feldspar, Fluorite, Gypsum, Quartz, and Talc. Rock Cycle Set includes: Basalt, Conglomerate, Granite, Gneiss, Sandstone, and Schist.
$10
Rocks & Minerals Homeschool Kit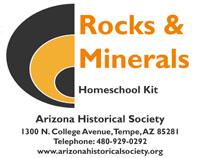 The Rocks & Minerals Homeschool Kit includes 1 Hardness set and 1 Rock Cycle set. Hardness Set includes: Calcite, Feldspar, Fluorite, Gypsum, Quartz, and Talc. Rock Cycle Set includes: Basalt, Conglomerate, Granite, Gneiss, Sandstone, and Schist.
$3
Rocks & Minerals Custom Kit
Custom Kit includes 30 specimens (any combination) of the following rocks and minerals: Amethyst (quartz), Apache Tears, Azurite & Malachite, Baryte, Basalt, Calcite, Chalcedony, Chalcopyrite, Chrysocolla, Coal, Conglomerate, Feldspar, Fluorite, Garnet, Glauberite, Gneiss, Granite, Gypsum, Limestone, Mica/Muscovite, Olivine (peridot), Petrified Wood, Phyllite, Pumice, Pyrite, Quartz, Sandstone, Schist, and Talc.
$35
Arizona Rocks & Minerals Classroom Kit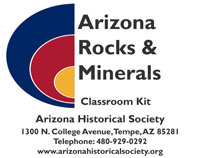 The Arizona Rocks & Minerals Classroom Kit includes samples of rocks and minerals found in Arizona. Kit includes 2 each of the following: Apache Tears, Azurite & Malachite, Baryte, Calcite, Chalcedony, Chalcopyrite, Chrysocolla, Coal, Garnet, Glauberite, Limestone, Mica/Muscovite, Olivine (peridot), Petrified Wood, Phyllite, Pumice, Pyrite, and Quartz (amethyst).
$20