Your Gift Matters!

To give an online Annual Fund or other monetary donation to the Arizona Historical Society with your Visa, MasterCard, Discover, or American Express credit card, please use the online option below.
Alternatively, you can mail your donation to:
Arizona Historical Society
Donations
949 E. 2nd St.
Tucson, AZ 85719-4898
(Make your check payable to Arizona Historical Society.)
Please let us know if your donation is in memory or honor of any individual, or is intended for a specific Arizona Historical Society museum, program, or fund.
All cash donations to the Arizona Historical Society are 100% tax-deductible.
For AHS membership information, including joining, renewing, or gifting online, please visit the AHS Membership webpage by clicking here.
If you have questions about donations or membership, or wish to donate by phone, contact Roy in our Membership Services department at (520) 617-1165 or membership@azhs.gov.
If you have questions regarding the online donation process, please phone 520-617-1165 or send an email to membership@azhs.gov.
Thank you.
Purchasing the Arizona Historical Society Specialty License Plate is another way to donate and show your support. For license plate details and order form access, click here.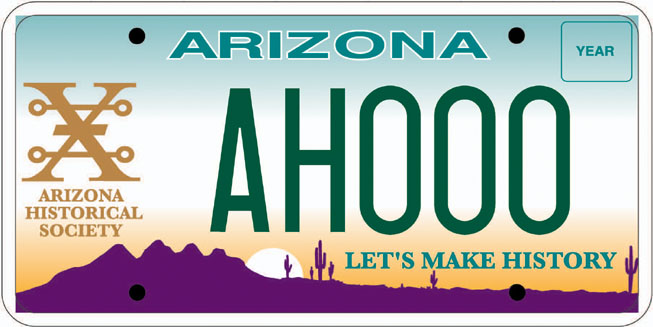 Arizona Historical Society
founded by an act of the Arizona Territorial Legislature in 1864.