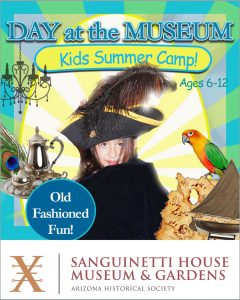 Day at the Museum
Kids Summer Camp 

Summer is hot but museums are cool!
Treat your child to sun-filled, fun-filled days as history comes to life at the Sanguinetti House Museum and Gardens in historic downtown Yuma.
Enrollment is now open for the 2017 Day at the Museum Kids Summer Camp.  
Choose from 3 Sessions:
Session 1: June 13-14, 8am to Noon 
Session 2: June 20-21, 8am to Noon
Session 3: June 27-28, 8am to Noon
Here is a preview of the activities your child will enjoy!
– Treasure Hunt Exploration
– History Mysteries
– 19th Century Top Hat and Bonnet Creations
– Lotta Piñata Fun
– Butter Up!
– Victorian Tea Party
– Vintage Dress-up
– Arizona Sandyscapes
– Meet the Sanguinetti Family
– Splash-to-the-Past
– Play the Old Fashioned Way: Marbles, Stick & Wheel, Paper Dolls
– Special Guests with Pets
– And More!
Ages 6-12 (Campers ages 11 and 12 are Senior Campers and assist with activities.)
Registration is $50 for your first camper.  Sign-up a second camper and receive a $10 discount on the second child's registration fee.  Three camp sessions are offered.  Each session is two, half days.
Questions?  Call 928-782-1841 or email ykruse@azhs.gov
The Sanguinetti House Museum is located at 240 S. Madison Avenue in Yuma's downtown district.