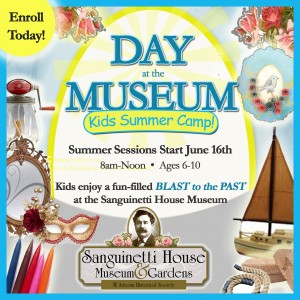 Day at the Museum
Kids Summer Camp

Summer is hot — but museums are cool!
Treat your child to sun-filled, fun-filled mornings at the museum.  Enrollment is now open for the Sanguinetti House Museum and Gardens' Day at the Museum – Kids Summer Camp for children ages 6-12.
Your camper will have a blast exploring Yuma's past!  The Sanguinetti House is located at 240 S. Madison Avenue in historic Yuma.

Games, Crafts & Activities: 
Old Fashioned Candle Dipping

Fancy Crafts

Riverboat Making

Butter Churning

Hopscotch, Jacks and Jump Rope

Victorian Mask Craft

And More!
Ages: 6 to 12 years
Hours: 8am-Noon
Drop off your child between 8am – 8:30am
Pickup your child between 12:00pm – 12:30pm

Sessions: (one session per child)
Session 1.        June 16-17 (Thurs-Fri)
Session 2.        June 21-22 (Tues – Wed)-Closed
Session 3.        July 6-7 (Wed-Thurs)
Session 4.        July 12-13 (Tues – Wed)
Cost: $50 per session (Family option! Add a sister or brother for just $10)
Pay with a credit or debit card by telephone: 928-782-1841

Pay by check written to the Arizona Historical Society.




Mail to Sanguinetti House Museum, 240 S. Madison Avenue, Yuma, AZ 85364

Pay in person by visiting the Sanguinetti House, Monday-Friday from 10am-3pm

      

             
Enroll Today!
Class size is limited so register your camper today.  (Questions?  Contact Yanna Kruse at 928-782-1841 or ykruse@azhs.gov)
Step 1. Save the Camp Registration Form to your computer.  Complete and email it to ykruse@azhs.gov
or fax to 928-783-0680, attention Yanna Kruse
Step 2. Call to pay with a credit or debit card by telephone at 928-782-1841