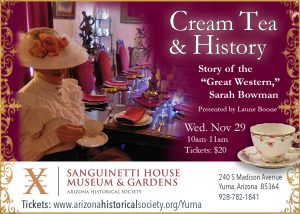 Cream Tea & History
The Story of the "Great Western," Sarah Bowman
Presented by Laurie Boone,
Special Collections Librarian

Wed. November 29th
10:00 a.m. -11:00 a.m.
Sanguinetti House Museum and Gardens
240 S. Madison Ave in historic downtown Yuma
Phone: 928-782-1841
Tickets: $20 each ($5 discount off first ticket for AHS members)
Purchase Tickets Online
Take a seat at E. F. Sanguinetti's table. Delight in a cup of tea served with vanilla-bean scones topped with sticky fruit jam and a delicious dollop of Devonshire cream.
Presenter, Laurie Boone, will share the story of 19th Century entrepreneur and legendary madam, Sarah Bowman — the strong-minded, Amazon of a woman who spent her life following the military as a laundress, nurse and cook, stopping along the way to take orphans into her care before arriving at Fort Yuma in 1852.
Tea hats welcome!

Seating is limited.  Kindly reserve your seats early.