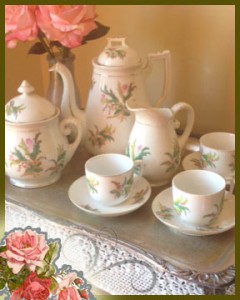 Memories are made with friends and tea.
Come relax and sip a cup with us!

Tea Parties in the Gardens
Plan a memory-making Tea Party in E. F. Sanguinetti's Secret Gardens and sip tea in the peaceful surroundings of roses, singing birds and butterflies.  Parties include teas served with a variety of sweet treats.
Birthday Tea Parties in the Secret Gardens
What a lovely way to celebrate a birthday — at any age!  Host a Birthday Tea Party in E. F. Sanguinetti's lattice chateau in the heart of his vintage rose gardens. Guests will delight in specialty teas served with lemon slices and tasty treats.  Bring your own birthday cake or allow us to have one prepared just for you.  Your special guest will leave with a key to Sanguinetti's Secret Garden!
Host a Tea Party in Sanguinetti's Secret Garden:
– $25 per person: Includes a private museum tour
– $20 per person: Includes general museum admission
– $15 per person for children's Tea Party (12 and younger)
* Minimum of 10 people in group.  Advance reservations required.
Schedule Your Tea Party Today!  928-782-1841 or email ykruse@azhs.gov