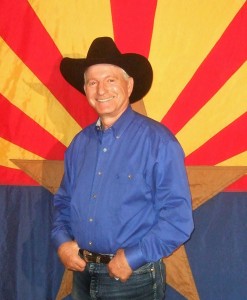 The Arizona Historical Society
would like to announce that
State Historian Marshall Trimble
has been elected Board President of AHS.
Official Arizona State Historian Marshall Trimble is a noted historian, author, folksinger and humorist. He's been a board member of WWHA (Wild West History Association) since its founding. He's also a board member of the Museum of the West and the Arizona Historical Society.
The author of 22 books on Arizona and the West, he writes a monthly column, "Ask the Marshall," in True West Magazine. True West named him "2015 Westerner of the Year." In 2007, the Arizona Office of Tourism presented him with its "Lifetime Achievement Award." The WWHA presented him their Lifetime Achievement Award in 2010.  In 2011, the Arizona Centennial Commission honored him as one of "Arizona's Most Inspiring Leaders." That same year he was inducted into the Arizona Music and Entertainment Hall of Fame and received the Al Merito Award from the Arizona Historical Society for lifelong distinguished service in promoting Arizona history.
In 2012 he was presented the "President's Silver Star Award" from the Wild West History Association for his "distinguished and unselfish service on behalf of the advancement of WWHA and the documentation of western history." Also in 2012 he was selected for the U.S. State Department's "Cowboy Hall of Fame Tour," a goodwill visit to Kyrgyzstan to share American cowboy culture.
In 2014 Marshall Trimble was recognized by the Historical League as an Arizona Historymaker.  The Historymakers Gala, a fundraiser unique to the Historical League, supports education and other programs at the AHS Arizona Heritage Center at Papago Park. Each Historymaker's story becomes an important part of the Heritage Center's archives and exhibits for Historymakers Hall and Historymakers Wall.