AHS MEMBERSHIP SURVEY
Your opinion is important to us, and we would like to hear from you. We are conducting a brief survey to gather feedback about the value of your membership and general satisfaction with AHS museums and services. Please take a few minutes to take this survey. We appreciate your feedback and your support. Thank you!

_________________________________
Arizon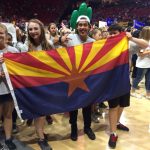 a students received awards at the June 15th National History Day– National Competition Awards Ceremony
National History Day in Arizona (NHDAZ) is coordinated by the Arizona Historical Society and is supported in part by a grant from the Historical League, Inc. This year nearly 400 students from around Arizona participated in NHDAZ. Fifty of these Arizona students earned the chance to compete in the National History Day Contest in College Park, Maryland. Saba Shakir, from New Vistas Center for Education in Chandler, took 1st Place out of 100 entries in the Junior Individual Websites division/category. Saba's project was titled "The Silent Stand: Tinker vs. Des Moines." Aidan Scott from Heritage Academy Gateway in Mesa received the Junior Division Outstanding State Entry Award for his Junior Historical Paper titled "William Tyndale: A Stand for the Common Man." This year's Senior Division Outstanding State Entry Award went to Frankie O'Neill for her Senior Individual Documentary project titled "Show Boat: Navigating the River of Racism". Her project took 7th place nationally in the Senior Individual Documentary category. Frankie is from Westwood High School in Mesa. Neera Patel, a sixth grader from Chandler, was selected to exhibit her Junior Individual Exhibit, "Taking a Stand Amidst Terror", on June 14, 2017, at the National Museum of American History. During regular museum hours Neera was visited by museum guests and discussed her exhibit regarding the role of Sophie Scholl in the White Rose resistance group in Nazi Germany. For more information on how you can get involved with NHDAZ visit http://www.nhdaz.org/. To see the complete NHDAZ NHD press release, click here.
_________________________________________________
AHS Executive Director Anne Woosley announces her retirement.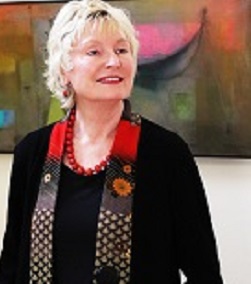 Dear Members and Friends,
I recently informed the AHS Board of Directors of my plan to retire this June 30th and wish to share the news with you. Serving as the Executive Director of the Arizona Historical Society since 2001 has been one of the most satisfying experiences in my now long professional career. Working with AHS colleagues and volunteer organizations to further the mission and spirit of the Society has been especially rewarding. I am deeply appreciative for the strong support extended me from so many individuals over the years, and grateful for the opportunity to visit with those preserving and telling the stories of Arizona history in communities around the state.
I take pride in knowing I leave AHS on a firm foundation and will continue to be an advocate for the Society in the future. Thank you for your friendship.
Warmest regards,
Anne I. Woosley, Ph. D.
Executive Director