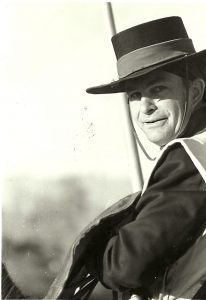 SIDNEY BRINCKERHOFF (1933-2017)
The Arizona Historical Society sadly observes the passing of former executive director Sidney Brinckerhoff, who died at his Bellevue, Washington home on January 5, 2017. He was eighty-three. A graduate of Princeton University (Class of 1956), Sid arrived in Arizona as a U.S. Army public-information specialist and, after his discharge, operated a public relations firm in Tucson, before joining the (then) Arizona Pioneers' Historical Society staff as curator in 1963. Advancing to executive director (1968-1985), he oversaw the professionalization of the staff, expansion of the Tucson museum facility, and the Society's transformation into a truly statewide organization renamed the Arizona Historical Society in 1984.
(Photo courtesy of Bruce Smith)_________________________________________________________
Arizona Historical Society
Al Merito Award
2017 Call for Nominations
AHS established the Al Merito Award in 1973 to recognize individuals and organizations from every corner of the state who have made outstanding contributions and serve as role models for preserving Arizona's rich history. Named for the nineteenth-century award bestowed by a newly independent government of Mexico for meritorious service to the Republic, al merito literally translates for merit. We invite nominations of organizations and/or individuals whose special achievements have enriched the community through their vision, dedication, and love of Arizona history. Nominations need to be received by February 28, 2017. More information as well as the nomination form can be found by clicking here. For questions regarding the Al Merito Award Nomination, call 520-617-1169 or email AHS Executive Assistant Valerie Shanahan at vshanahan@azhs.gov.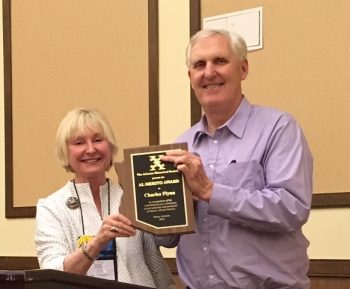 The 2016 Al Merito award recipient was Charles Flynn, Executive Director of the Yuma Crossing National Heritage Area, seen here with AHS Executive Director, Dr. Anne Woosley, during the award presentation.