2018 Al Merito Awards presented to
Vernelda J. Grant and to James Klein
The Arizona Historical Society established the Al Merito Award in 1973 to recognize individuals and organizations from Arizona who have made outstanding contributions and serve as role models for preserving Arizona's rich history. Named for the nineteenth-century award bestowed by a newly independent government of Mexico for meritorious service to the Republic, al merito literally translates for merit. The awards were presented by AHS Executive Director W. James Burns during the April 2018 Arizona History Convention.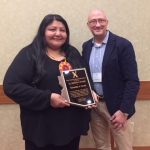 Vernelda J. Grant is a distinguished cultural anthropologist and enrolled member of the San Carlos Apache Tribe. The words that follow are those of Kevin Cronk, Tribal Treasurer for the San Carlos Apache Tribe, who wrote the nomination. The awardee is "passionate about the protection and preservation of her culture and its history, as well as the history of Arizona and the Southwest. She educates the public on the importance of the protection, preservation, and perpetuation of language, culture, and history of her people, the Apache, and of the Native Peoples of the State of Arizona. As a Native American working in the field of Anthropology and Archaeology in Arizona, she has contributed perspectives that have improved communication among the different stakeholders in historic preservation. She has served on many boards and commissions, including the Arizona Governor's Archaeology Advisory Commission, Advisory Council on Historic Preservation, Native American Advisory Board, is an ambassador with the American for Indian Opportunity, and has served as Chair of the National Congress of American Indians Commission on Repatriation and Burial Sites Protection. Further, she is active in tribal, state, and federal government-to-government consultation, and advocates for the protection and preservation of culture and history as well as sacred and holy places important to the spiritual livelihood of Native American tribes and peoples."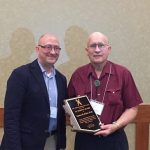 Dr. James Klein is a gentleman who has worked for decades to research, restore, and preserve the history of Arizona in particular and the Southwest in general. He generously shares his knowledge with other scholars and history buffs. His accomplishments are many, including: founding and chairing the Pima County Medical Society History Committee; researching and authoring multiple publications; serving as a founding member and then as President of the Otis H. Chidester Scout Museum of Southern Arizona; volunteering as the historian for the Catalina Council, Boy Scouts of America; serving as a docent at the annual Tucson Fort Lowell Days event and as a member of the City of Tucson Fort Lowell Historic Zone Advisory Board; and serving as President of the Tucson Corral of the Westerners as well as editing their research publication, "The Smoke Signal."
______________________________________________________________