_________________________________________________________
Arizona students received awards at
the 2016 National History Day – National Competition
Awards Ceremony.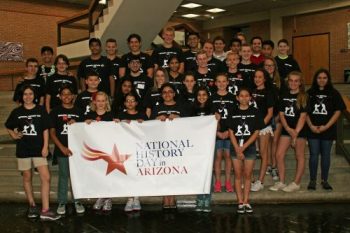 National History Day in Arizona (NHDAZ) is coordinated by the Arizona Historical Society and is supported in part by a grant from the Historical League, Inc.  This year nearly 500 students from around Arizona participated in NHDAZ. Fifty of these Arizona students earned the chance to compete in the National History Day Contest in College Park, Maryland. Aman Agarwal and Daksh Gopalani from Basis Peoria in Peoria won 3rd Place out of 97 entries in the Junior Group Websites division/category. Their project was titled "Unit 731: Perpetrators of the Asian Holocaust." Click here to visit their website. Sharon Vaz from Basis Tucson in Tucson received the Senior Division Outstanding State Entry Award for her Senior Historical Paper titled "The Unanticipated Impact of Father Kino's Mission on the O'odham People." This year's Junior Division Outstanding State Entry Award went to Ayla Young for her Junior Individual Website project titled "The Wire that Connected the World."  Ayla is from New Vistas Center for Education in Chandler. Click here to view her website. For more information on how you can get involved with NHDAZ visit nhdaz.org or contact the Arizona State Coordinator, Nancy York Greenwood, at nyork@azhs.gov. To see the complete NHDAZ NHD press release, click here.
________________________________________________________
Charles Flynn is the Recipient of
the AHS 2016 Al Merito award.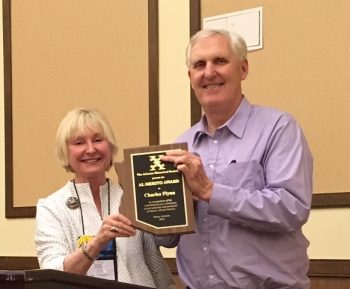 2016 Al Merito award recipient, Charles Flynn, and AHS Executive Director, Dr. Anne Woosley, during the award presentation.
The Arizona Historical Society established the Al Merito Award to recognize those who have contributed significantly to preserving and promoting Arizona history.
Congratulations to the 2016 award recipient, Charles Flynn, Executive Director of the Yuma Crossing National Heritage Area.