The Arizona Historical Society publishes books and monographs about Arizona, the Southwest, and northern Mexican history from early Spanish explorations to the present day.
The Journal of Arizona History
The Journal of Arizona History features articles about the history of the state and region, photo essays and critical book reviews. Subjects range from letters and reports of the 17th century missionary Jacobo Sedelmayer to reminiscences of modern politicians.
A subscription to the Journal is a benefit of Arizona Historical Society membership. The cost of the current issue is $12.50 and back issues (if available) are $7. On our membership webpage you will find the full list of membership benefits, plus an option to join or renew online.
Click here for writer's guidelines for submitting journal articles.
Readers and researchers now have access to 53 years of Arizona history articles published in The Journal of Arizona History. To access the journal's cumulative index on the AHS website, click here.
Online access to back issues of The Journal of Arizona History is available through JSTOR.
Books published by AHS
Click here for a complete list of books published by the Arizona Historical Society.
Click here to print mail-in order form for AHS books.
Chronicles of War: Apache & Yavapai Resistance in the Southwestern United States and Northern Mexico, 1821-1937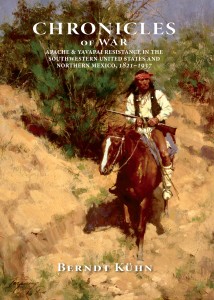 By Berndt Kühn.
Based on three decades of extensive field work and exhaustive research in manuscript and published sources, Berndt Kühn chronicles more than a century of conflict between Native Americans, Anglos, and Mexicans in the southwestern United States and northern Mexico. The nearly 4,000 entries in this meticulous compendium provide essential information on combatants, casualties, and locations of battles, skirmishes, and raids, along with the relevant sources for further research. Maps and tables chart the ebb and flow of warfare and tally the cost in lives and property. A comprehensive bibliography and detailed index enhance the value of this seminal work for scholars and beginning researchers.
7″ x 10″ hard-cover
ISBN 978-0-910037-60-0
480 pages. Maps, tables, notes, biblio., index
Publication date: November 2014
Price: $60.00
Also available as e-book for Kindle or Nook.
Click here for order form for hard copy of this book.

Arizona 100: A Centennial Gathering of Essential Books on the Grand Canyon State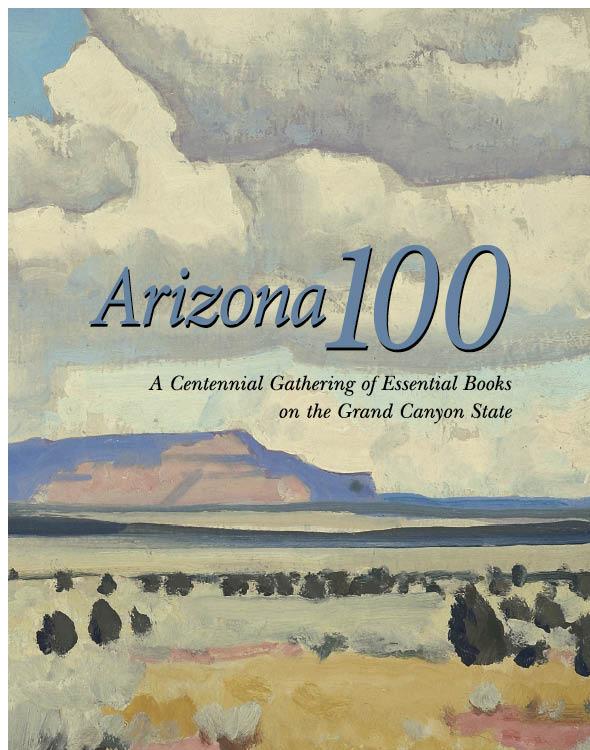 The Arizona Historical Society commemorates the 100th anniversary of Arizona Statehood with the publication of this special edition of The Journal of Arizona History containing an illustrated and richly annotated bibliography of emblematic books that define Arizona and Arizonans. Inspired by the Zamarano Club of Los Angeles' 1945 Zamarano 80, A Selection of Distinguished California Books, bibliophiles Bill Broyles, Steve Cox, Bruce J. Dinges, Alfredo Gonzales, W. David Laird, Roger Myers, and James J. Owens select a core reading list of fiction and non-fiction works that introduce natives and newcomers to the people, culture, and landscape of the Grand Canyon State. Each selection includes a description and an evaluation of the book, along with suggestions for further reading, writing, and research. An expansive introduction places the list in historical and cultural context. An indispensable guide to the history and literature of the Southwest borderlands.
120 pages. Illustrated. Softcover. Publication date: July 2012. Price: $12.50 per copy, plus $3.00 shipping and handling for first book; $1.00 for each additional book. Dealer inquiries welcome.
Also available as an e-book for Kindle or Nook.
A Volume of Friendship: The Letters of Eleanor Roosevelt and Isabella Greenway, 1904-1953
edited by Kristie Miller & Robert H. McGinnis.
Preface By Blanche Wiesen Cook.
In these intimate letters, Eleanor Roosevelt and Isabella Greenway chronicle a fifty-year friendship dating back to their school days at the beginning of the twentieth century. With care, sympathy, and affection, they share family concerns, discuss national and world affairs, support each other in times of personal tragedy, and chart their respective political careers—Roosevelt as a social reformer and first lady and Greenway as Arizona's first congresswoman. Editors Miller and McGinnis's astute analysis and insightful commentary enable scholars and general readers to view this remarkable correspondence against the backdrop of state and national politics, the depression and New Deal, and the changing roles of women in American society.
6" by 9″ hard-cover
ISBN 978-0910037-50-1
354 pages. Illus., notes, biblio., appendices, index.
Publication date: October, 2009.
Price: $34.95
Zeckendorfs and Steinfelds: Merchant Princes of the American Southwest
by Bettina O'Neil Lyons.
From their arrival in Santa Fe in 1853 with the earliest American occupation to the close of Steinfeld's department store in downtown Tucson in the 1890s, the history of the Zeckendorf and Steinfeld families is intertwined with the economic development of the Southwest. In this detailed portrayal, Bettina O'Neil Lyons delves into family documents, archival records, and published sources to chronicle 130 years of mercantile enterprise through the eyes of a remarkable group of men and women who lay the business foundations and set the social tone of Arizona and New Mexico for much of the nineteenth and twentieth centuries. Forty photographs, many published here for the first time, chronicle the lives and times of the Zeckendorfs and Steinfelds.
6 1/8″ by 9 1/4″ hard-cover
ISBN 978-0-910037-49-5
416 pages. Illus., notes, biblio., index.
Publication date: November, 2008.
Price: $24.95

Images of America: Early Tucson
by Anne I. Woosley, Arizona Historical Society.
Tucson is a history of time and a river. The roots of prehistoric habitation run deep along the Santa Cruz River, reaching back thousands of years. Later the river attracted 17th-century Spanish explorers, who brought military government, the church, and colonists to establish the northern outpost of their New World empire. Later still, American westward expansion drew new settlers to the place called Tucson. Today Tucson is a bustling multicultural community of more than one million residents. These images from the photographic archives of the Arizona Historical Society tell the stories of individuals and cultures that transformed a 19th-century frontier village into a 20th-century desert city.
Author Bio: Anne I. Woosley is the former executive director of the Arizona Historical Society. She received her undergraduate degree in history from UC Santa Cruz, a graduate degree in archaeology from Cambridge University, in England, and her doctorate in archaeology from UCLA. Her research interests and publications include prehistoric settlement, regional interactions, and subsistence practices of cultures in the American Southwest and West Asia. She serves on state and national committees promoting public history programs and historic preservation.
6 1/2″ by 9 1/4″ Soft-cover
ISBN 978-0-7385-5646-8
128 pages. Illus., notes, biblio., index.
Publication date: November, 2008.
Price: $21.99
All proceeds benefit the Arizona Historical Society

Sometimes the Blues: The Letters and Diaries of Frank Hammon, A Lonely Frontiersman in Globe and Phoenix, 1882-1889
by Susan Clardy. Foreword by Don Dedera
Frank Hammon was among the flood of educated young men who came west in the late-1800s seeking adventure and fortune, but found only hardship, tragedy, and backbreaking work. Unlike many of his fellows, Hammon wrote down his thoughts and daily routines in letters and a diary. In her engaging book, Hammon's great granddaughter fills in his life in the bustling mining town of Globe and the Phoenix farming community. She paints a vivid picture Hammon's world, including colorful characters such as the Apache Kid, scout Al Sieber, and future governor George W. P. Hunt. Miner, lawman, rancher, and swimming pool operator, Frank Hammon was a frontier Everyman. His diaries and letters, supplemented by Susan Clardy's meticulous research, uncover the lives of ordinary men and women struggling to survive in territorial Arizona.7″ x 10″ hard-cover.
ISBN 0-910037-47-7
328 pages. Map, illus., notes, bibliography, index.
Publication date: April 2007
Price: $39.95

Mickey Free: Apache Captive, Interpreter, and Indian Scout
by Allan Radbourne
WINNER! Western History Association Robert M. Utley Award; American Association for State and Local History Award of Merit.
On January 27, 1861, an Apache raiding party attacked John Ward's ranch in the Sonoita Valley of southeastern Arizona and carried off Ward's thirteen-year-old stepson, Felix Telles.
Thus began a remarkable odyssey. A young Mexican American boy was transformed into an Apache warrior and eventually served as Indian Scout for the U.S. Army. Nicknamed "Mickey Free," after a popular fictional character, he moved effortlessly between three cultures and became a major participant in the Southwest Indian conflicts.
In this thoughtful and engaging biography, Allan Radbourne employs three decades of research in archival records, printed sources, and Apache oral tradition to tell the story of Mickey Free and the Indian Scouts who played hitherto unappreciated roles in the Apache wars of the 1870s and 1880s and the application of reservation policy.
6 ¼" by 9 ¼" hardcover
ISBN 0-910037-46-9
328 pages, maps, illus., notes, biblio., index.
Price: $34.95
The Tohono O'odham and Pimeria Alta
by Allan J. McIntyre, Arizona Historical Society.
The Tohono O'odham have lived in southern Arizona's Sonoran Desert for millennia. Formerly known as the Papago, the people, acting as a nation in 1986, voted to change the colonial applied name, Papago, to their true name, Tohono O'odham, a name literally meaning "desert people." Living within a region the Spanish termed Pimeria Alta, the Tohono O'odham, from the time of Spanish Jesuit Kino's first missionary efforts in the late 1680s, have been witness to numerous governmental, philosophical, and religious intrusions. Yet throughout, they have adapted and survived. Today the Tohono O'odham Nation occupies the second largest land reserve in the country, covering more than 2.8 million acres. The images in this volume date largely between 1870 and 1950, a period that documents great change in Tohono O'odham traditions, culture, and identity.
Author Bio: Author Allan J. McIntyre is a historian and an art dealer specializing in the American Southwest prior to 1950. As an archaeologist and a museum collections manager for over 25 years, McIntyre became interested in Tohono O'odham history in attempting to understand connections with their prehistoric ancestors, the Hohokam. The photographs and illustrations used in this volume derive almost exclusively from the extensive archives of the Arizona Historical Society, Southern Division, in Tucson, Arizona.
ISBN 0-738556335 128 pages.
Publisher: Arcadia Publishing
Available at the Arizona History Museum's Mercantile Store
Tucson Arizona
Price $19.99
(520) 617-1167
All proceeds benefit the Arizona Historical Society
The Friends of the Journal of Arizona History, Inc.
The Friends of The Journal of Arizona History, Inc., is a private non-profit 501(c)(3) corporation, was established in 1999 to raise funds toward an endowment fund to support publication of The Journal of Arizona History. Contributions are tax-deductible.
Please send your tax-deductible contributions to:
Friends of The Journal of Arizona History
c/o John Lacy
2525 E. Broadway, Suite 200
Tucson, Arizona 85715