Authentic Mexican-American Cooking in the mid-1800s
Traditional Mexican cooking includes grilling, frying and steaming over an open fire or stove.  Corn or maize, in all its variations, was the main food source along with beans, avocados, chili peppers, and Nopal cactus.  Spices and herbs were also important additions to their traditional dishes.
~A comal is a smooth, flat griddle used to cook tortillas as well as other foods.  In early times, the comal was used over an open fire.  The word comal has its origins in the Aztec language.  The Comals were originally made of clay; today, they are also available in cast iron and are made to fit easily over burners on a stove.  Notice that the terra cotta comal is concave in design.
~A horno is a mud adobe oven built outdoors and usually placed under a ramada for shade.   Traditionally, it has a beehive shape and burning wood is used as its source of heat.  Horno is the Spanish word for oven or furnace; it was introduced to New World inhabitants by the conquistadores.  In order to bake bread, wood fires are burned to heat the adobe oven and then the embers and ashes are removed and the bread is placed into the horno to bake.  For steaming corn, the embers are doused with water to make steam prior to placing the corn in the oven.  Meats are also cooked in the oven, but the embers are pushed to the back of the oven, rather than removed.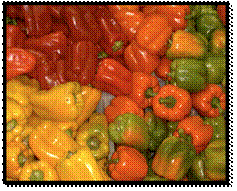 ~Chili peppers are native to the Americas, but different varieties are found all over the world today.  Basically there are three types of chili peppers: bell peppers, sweet peppers and hot peppers. The spelling of chilies varies and all spellings are correct.  Possible variations include: chili, chile, or chilli.  Chili peppers (dried, fresh, or powdered) are used extensively in Mexican dishes.