| | | |
| --- | --- | --- |
| | | |
| | | |
| | | |
San Xavier del Bac Mission Facts
San Xavier del Bac Mission was founded in 1699 by Father Eusebio Kino, a Jesuit missionary-explorer.  It was one of a chain of 25 missions founded by Padre Kino from northern Mexico into present-day southern Arizona.
Father Kino is remembered throughout the Southwest with memorial honors – streets such as Kino Parkway in Tucson and with statutes – one in Tucson, one in the Wesley Bolin Memorial Plaza near the Arizona State Capitol, and one in front of the Tucson Arizona Historical Society  – as some examples of his impact on the region.
San Xavier Mission was named a National Historic Landmark in 1963.
While a Spanish architect designed the mission, it was built by the labor of Papago Indians, today known as the Tohono O'odham Nation.
San Xavier Mission is nicknamed the "White Dove of the Desert" for its brilliant white color.
It was constructed of adobe block coated with a plaster of lime, local sand and cactus juice. This wash (paint) gives the mission its glowing white color.
Construction of the current church began in 1783 and was completed in 1797.   Arizona was part of the Spanish Empire in North America at the time.
San Xavier is the oldest European structure in Arizona and is considered a national treasure.
The mission's interior is filled with original statues, frescoes, carvings and mural paintings displaying a mixture of Spanish and Native American artistic designs.
Its massive, carved mesquite-wood doors add to the awe and beauty of the building.
The mission is located 9 miles south of downtown Tucson on the Tohono O'odham Indian Reservation.  The Santa Cruz River runs near the mission.
About 200,000 visitors come to the mission each year to view its Spanish Colonial architecture.
In 1821, Mexico gained its independence from Spain, so the mission became part of Mexico at that time.  When the Gadsden Purchase made the area south of the Gila River part of the United States, it became a part of the Arizona Territory.
El Ojito Spring or Little Eye Spring
At one time, the source of water for Tucson residents was El Ojito Spring; it is no longer there. The spring slipped beneath the earth, diverted by an earthquake in 1887 and eventually drained by the ever-increasing population of Tucson.
For many years, the spring gave a year-round supply of water. It supplied the soldiers in the presidio with water before wells were dug within the fort.
Guards were posted to protect the people from the Apaches when they were gathering water and washing clothes at both the El Ojito Springs and the Santa Cruz River.
An Irishman, Martin Toughey, made a business of delivering water in canvas bags, that he tied to his burros, to the residents of Tucson for a penny a gallon; later two other enterprising fellows used a two-wheeled cart for delivery and sold the water for 5 cents a bucket.
In the late 1800s, "Simpson Baths" took the water from the spring, heated it and provided a bathing opportunity for the men of Tucson. All social levels of men, rich and poor, frequented the baths, conducting business while soaking in the metal tubs. Women were not allowed to bathe there; they had to haul water to their homes and heat it themselves.
The public bathhouses (with zinc or tin tubs) cost 25 cents for a weekly bath; water was considered far too important to use for bathing more than once a week.
In 1873, Hiram Stevens erected the first windmill to pump water from the wells.  Windmills were soon erected throughout the town.
In the 1880s, W.C. Davis installed Tucson's first personal bathtub in a Congress Street home.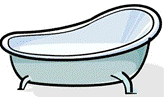 Description of Levin's Park or Levin's Gardens
In Esperanza Means Hope, Alexander Levin was introduced as a guest at Señor Ochoa's party.  He is described as a "huge man with a bristling black beard and as a German Jewish immigrant … [who] ran Levin's Park, one of Esperanza's favorite places."  Esperanza dreamed of tasting the ice cream from the saloon, but she knew her family couldn't afford it.  Levin's Park was also mentioned in the story as the site of the 1876 Centennial fireworks display in Tucson.   Levin was a brewer by trade.
Levin's Park is also worthy of some description, having been for many years a very popular resort in Tucson. Here the San Augustine fiestas were held, celebration of both American and Mexican independence, and was the scene of many a revelry (partying). It was the constant care and pride of Alexander Levin, who set out the rows of trees, and watched their growth from slender saplings to trees of great height and size; the entire area of the [seven acre] park was shaded by their foliage. He planted eucalyptus, pepper and cottonwood trees as well as many varieties of roses and other flowers.
Benches and tables were provided for the guests (in shady places), and refreshments furnished from a restaurant on the grounds. Levin was the first in town to introduce ice as a luxury item. A high fence made it safe from improper intrusion (disturbance), and a gatekeeper held the premises in charge. A skating rink, shooting gallery, bowling alley and dancing pavilion were prominent attractions. Levin built Park Hall with a 2000 seat capacity, to accommodate live theatre and operas. Music was discoursed (played) every evening by a first-class string band, and concerts every Sunday afternoon were much frequented. Its pleasant shade and cool breezes were blessings in this village on the Santa Cruz, and a visit to Tucson was not considered complete without taking in the old mission, Levin's Park and Fort Lowell, which divided honors with the park as a resort for the social set of early timers.

F. Forques' Ice Cream Saloon
In Chapter 7, (page 60) Esperanza enjoyed her first taste of ice cream.  It was favored with cinnamon and vanilla and served in a long-stemmed glass dish.
Although Forques' ice cream store in Tucson was originally called a saloon, a more proper and respectable name was eventually given to ice cream stores; they were called "parlors."
In the mid-1800s in the United States, ice cream street vendors would sell ice cream in small glass containers called "penny licks."  The sweet treat cost just a penny, as the name implies.
"Penny lick" glassware had a thick bottom with a slight depression at the top that was filled with ice cream.  Although the glass made it appear as if the glass were full of ice cream, it was an optical illusion.  In fact, the glass only contained a "lick" of ice cream.
People would lick the ice cream and then return the glassware to the vendor who would wash out the container; eventually, concerns about health issues connected with the non-sterilized glasses, brought an end to the practice.
Although no one is 100% certain who first resolved the problem related to the penny lick glassware, eventually paper cones and then a type of pastry cup or pastry cone was invented to hold the ice cream.
The first maker of ice cream in Tucson was an Italian who came from Sonora, Mexico.  He sold a quart of ice cream for $5.00; that is more than is paid today for a similar amount of the dessert.
Ice cream would have been an expensive luxury at the time, given that a laborer generally only made $1.00 per day.
The first ice cream parlor in America opened in New York City in 1776.
Dolly Madison created quite a sensation when she served ice cream as a dessert in the White House during the second inaugural ball in 1812.
Italo Marchiony baked an edible waffle cup with sloping sides and a flat bottom to serve his ice cream to Wall Street customers. He patented this idea in 1903.
In 1843, a housewife, Nancy Johnson, invented the hand-cranked ice cream churn. She sold her patent for $200 to a Philadelphia kitchen wholesaler.