AZ Heritage Center at Papago Park
1300 North College Ave., Tempe, AZ 85281
480-929-0292

Welcome to the AZ Heritage Center, home of the Centennial Museum,
Explore Arizona's history with a tour of our Centennial Museum. Take a trip through time, from western frontier days to war times and the post war building boom. Learn how water makes life possible in the desert, and discover the beauty and variety of Arizona's vast natural resources. Marvel at the breathtaking desert vistas as you wander through our outdoor spaces.
Nestled against the base of beautiful Papago Park, the museum features exhibits spanning more than 100 years of Central Arizona history, making it the perfect place to enjoy the best of Arizona's past and present!
~~~~~~~~~~~~~~~~~~~~~~~~~~~~~~~~~~~~~~~~~~~~~~~~~~~~~~~~~~
More Than A Museum
In addition to the Centennial Museum, the AZ Heritage Center is a cultural center where visitors can participate in a variety of educational and entertaining programming and events for adults and children. Guided and self-guided tours are available for school children and adult groups, and can be customized to meet your needs.
The AZ Heritage Center is also a beautiful and functional event venue, featuring a charming brick courtyard, majestic sandstone lobby, auditorium, theater, and multiple meeting spaces.
Located at the edge of Papago Park in Tempe, near the Loop 101 and Scottsdale Road, our central location is convenient to the metropolitan Phoenix area.
---
HOURS:
Monday – Thursday 10:00 a.m. – 5:00 p.m./Friday & Saturday 10:00 a.m. – 4:00 p.m.
Closed on Sundays
---
Admission:
Adults $12.00; Seniors 65+ $10.00; Ages 7 – 17 $8.00
Children 6 and under – Free; AHS members, Military and Veterans – Free
---
Visit us on

Facebook.

Like and share!

---
Tours
Come explore the amazing history of Arizona! We offer school tours Monday-Friday and guided and self-guided tours for groups of 10 or more people Monday-Saturday.
---
EVENT CALENDAR
| | | | |
| --- | --- | --- | --- |
| Date | Time | Description | Cost |
| 11/15/17 | 6:00 p – 7:30 p | Geology of Central Arizona – Sonoran Silver lecture series | $5.00 public $4.00 AHS members and McDowell Sonoran Conservancy staff/stewards |
| 11/18/17 | 9:00 a – 10:00 a | History in the Desert Exhibit Opening Event (at Browns' Ranch Trailhead) | Free |
| 11/18/17 | 9:00 a – 2:30 p | AZ Kids Build: The Nature of Shelter – hands on workshop for youth grades 4th – 6th | $5.00, includes lunch. Advance registration required |
| 12/6/17 | 6:30 p – 8:30 p | History of Buckhorn Mineral Baths and Wildlife Museum – talk and book signing | Free |
---
EVENTS AT THE AZ HERITAGE CENTER
November 15


6:00 p.m. – 7:30 p.m.
The Geology of Central Arizona…Dynamic Forces at Work , a presentation by John ("Jack") McEnroe
Mountains as high as the Himalayas; valleys more than a mile deep; active volcanoes and lava flows; seas; super-continents – these are not the geologic features you see today, but they did exist in the Valley of the Sun and the surrounding area thousands of years ago. Join us as Jack leads us into a discovery of dynamic forces at work – what came before and where we are today.
Presented as part of our Sonoran Silver series in partnership with the McDowell Sonoran Conservancy.

Cost: $5.00 General Public, $4.00 AHS Members/McDowell Sonoran Conservancy staff/stewards
RSVP: azheritagecenter@azhs.gov or 480-929-0292
---
November 18


9:00 a.m. – 10:00 a.m.
History in the Desert, an exhibition at the Brown's Ranch Trailhead, 30301 N. Alma School Parkway, Scottsdale, AZ 85262
The AZ Heritage Center, is proud to open "History in the Desert" at the Brown's Ranch Trailhead in north Scottsdale. The exhibit offers insights into the Arizona Historical Society's role in preserving the state's history and telling its unique story. It includes artifacts and photographs from the Arizona Historical Society collections showing historic ranching, mining, farming and other elements of Arizona history.
The exhibit also exposes visitors to the Arizona Historical Society's every day role as an educational and cultural connector by providing information about programs like National History Day – a competitive student history competition that welcomes hundreds of participants from around Arizona each year.
This exhibit is part of the partnership between the Arizona Historical Society and the McDowell Sonoran Conservancy, which launched with the July 2017 installation of Sonoran Silver, an exhibit celebrating the McDowell Sonoran Conservancy's 25 years preserving Arizona Sonoran desert treasures.
Welcome, introductions and remarks begin at 9:00 a.m., followed by the ribbon-cutting with Scottsdale Mayor Jim Lane. Light refreshments follow. The event is free.
November 18
9:00 a.m. – 2:30 p.m. – Kids program made possible by Arizona Kids Build and AIA Arizona.
Arizona Kids Build: The Nature of Shelter
Does your child love to build? Have they ever wondered about the "built environment" that they live in? Then Arizona Kids Build: The Nature of Shelter is just the program for them! This all day event (9am-2:30pm) designed for 4th -6th graders gives students an opportunity to learn about the "built environment" and how it directly affects their own well-being and that of the natural environment in a fun and interactive way.
Through interactive lessons and project design, students will gain an understanding of sun angles, orientation, scale, spatial and emotional needs. Students will use their new-found knowledge to create a model for a personal structure that provides shelter from the elements as well as physical and emotional comfort.
The cost is $5.00. Please pre-register at Arizona Kids Build: The Nature of Shelter. Lunch will be provided to students by AIA Arizona Educational Outreach Committee and CAAF – Central Arizona Architecture Foundation.
---
December 6


6:30 p.m. – 7:30 p.m. – talk / 7:30 p.m. – 8:30 p.m. – book signing
The History of Buckhorn Mineral Baths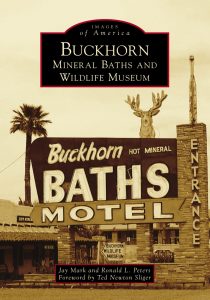 "Buckhorn Mineral Baths & Wildlife Museum" – Discussion and book signing, with authors Jay Mark and Ronald L. Peters, AIA.
From fire to empire, the story of the Buckhorn baths is a rags-to-riches tale. After a disastrous 1935 Christmas Eve fire destroyed their small country gas station/taxidermy business, a new, unimagined door opened for Ted and Alice Sliger. In 1936, the Sligers began turning tragedy into triumph, transforming a dusty patch of scrub-covered desert eight miles east of Mesa into a legendary roadside oasis. Their chance discovery of mineral-laden hot springs led to the valley's first therapeutic spa. With the New York Giants' initial attraction to Buckhorn's mineral baths, a decades-long association with Major League Baseball helped pave the way to Cactus League baseball. By the time it closed in 1999, the Sligers had built the Buckhorn into an iconic, quintessential roadside business along the route of four federal highways. It was renowned for its celebrity guests, eclectic architecture, colorful neon, mineral spa, retreat for baseball players, wildlife museum, and wide-ranging collection of memorabilia.
Event is free.
---
EXHIBITS
Now Open
Footprints on the Desert: Frank Lloyd Wright in Arizona
We are pleased to announce the opening of our newest exhibit on October 13, Footprints on the Desert. The exhibit features notable Frank Lloyd Wright designed buildings in Arizona. Wright's architectural designs reveal painstaking attention to detail, with an intense dedication to sustainability and beauty. The exhibit includes images and artifacts from Wright's Taliesin West, David Wright House and Harold C. Price House, as well as other Wright designs – including some that were never built.
Footprints on the Desert: Frank Lloyd Wright in Arizona was organized by the AZ Heritage Center in cooperation with the Frank Lloyd Wright Foundation, and in conjunction with the year of Wright's 150th birthday.
---
Historical League

HistorymakersTM

2017 Exhibit

The Historical League is proud to present the 2017 Historymakers Lobby Exhibit. The exhibit showcases memorabilia, photographs, and video clips from the 2017 Historymakers: Ed Beauvais, America West founder; Wink Crigler, X Diamond Ranch owner; The Honorable Jon Kyl; The Papp Family, supporters of educational institutions, culture and the arts; Robert Spetzler, M.D., renowned neurosurgeon and retired Director of Barrow Neurological Institute; and Dr. Warren H. Stewart, Sr., Pastor of First Institutional Baptist Church of Phoenix since 1997.
---
Sonoran Silver Exhibit open Now through May 31, 2018
This exhibit celebrates the 25th anniversary of the McDowell Sonoran Conservancy. The McDowell Mountain Preserve in Scottsdale is the largest, and one of the most beautiful, urban preserves in the U.S. Learn the history of the Preserve and the Conservancy, and what the Conservancy does to preserve and share this incredible natural legacy.
---
Wedding and Corporate Event Facility Rentals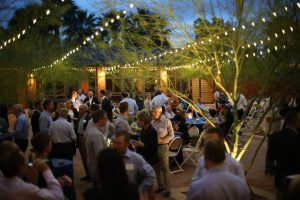 The AZ Heritage Center features a wide array of venue options for your next corporate event, wedding, or gala celebration.
♦ Romantic Brick Courtyard with water feature
♦ Majestic Sandstone Lobby with grand staircase
♦ Bright and airy Courtyard Pavilion
♦ Steele Auditorium (272 capacity)
♦ Brown Theater (50 capacity)
♦ Scenic Desert Terrace
♦ Expansive Orientation Point
Contact our Event Planning Department at 480-387-5367, email DMcKinion@azhs.gov or visit us on

WeddingWire.com.