AZ Heritage Center at Papago Park
1300 North College Ave., Tempe, AZ 85281
480-929-0292

At the AZ Heritage Center at Papago Park, we connect with people by sharing Arizona's history and engaging in meaningful conversations about how history impacts our lives today and tomorrow. 
With a focus on twentieth and twenty-first century history, the Museum exhibits take visitors on a trip through time – from early settlements to World War II and the post-war rise of desert cities, to Arizona's pop culture. Discover the beauty of minerals and gems from Arizona and around the world, and see a scale model of an Arizona copper mine. While visiting the Museum, take time to enjoy the lush desert landscaping and scenic vistas.
Located at the edge of Papago Park in Tempe, the central location is convenient to most of the metropolitan Phoenix area.
Open Tuesday – Saturday, 10:00 a.m. to 4:00 p.m./ Sunday 12:00 p.m. to 4:00 p.m.
Reduced Summer Admission Rates!
Adults: $10.00; Seniors 65+: $8.00
Ages 7 – 17: $6.00; Ages 6 and under: Free
AHS Members and Veterans/Active Military: Free
Parking is always free.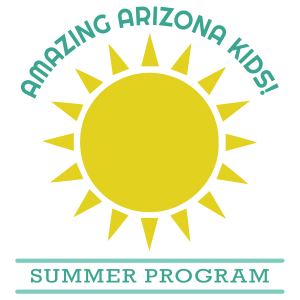 Amazing Arizona Kids! Summer Program schedule is here!
Coming Events!
Roy Rogers, The Western Hero Who Never Let Us Down!
A presentation by Bill J. Harrison, "Arizona's Road Scholar"
Wednesday, July 20 from 1:30 – 2:30 p.m.
Roy Rogers represented the highest American ideals – honesty, courage, faith, and fair play. Roy not only shared with us his exciting adventures on the big screen, but also provided us with real-life inspirational messages that came straight from the heart. 
Join us as Bill J. Harrison presents rare photos and personal stories of Roy Rogers, his beloved wife, Dale "Queen of the West", and Trigger, "the Smartest Horse in the Movies."
Cost: $5.00 admission, $4.00 for AHS members. 
Book your seats by calling 480-929-0292.
Children's Summer Programming:
Amazing Arizona Kids!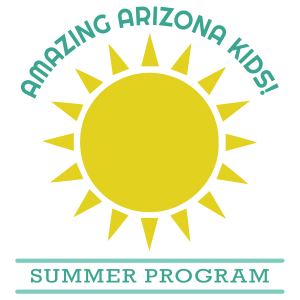 Tuesdays

and Saturdays*
June – July

 10:00 to 12:00 noon.

 
*Check schedule for dates
All events are free. No drop offs, please.
We've packed the summer with fun (and educational) activities for kids ages 5 – 12. To download our program flyer click here.
No reservations needed; just drop by! See you soon!
Arizona Rocks!  Natural History series
Learn about Arizona's natural history, with learning enhanced by hands-on activities. Snacks provided. Click here for program flyer!
June 18 – Rocks and Minerals                          June 25 – Mining Madness
July 9 – Volcanoes                                            July 16 – Fossils
Storytime!
Storytelling from a series of books by Albert Quihuis, followed by related hands-on activities. Snacks provided. Click here for program flyer!
June 7 – Sofia's Awesome Tamale Day                 June 14 – Search for the Lost Art of                                                                                                                        Making Tortillas
June 21 – Isabela's Treasure                                   June 28 – Sofia's Summer Adventure
Arizona Desert  
Learn about life in the desert. Related hands-on activities. Snacks provided.
Click here for program flyer!
July 12 – Whew, It's Hot! Keeping Cool in the Desert
July 19 – Let's Grow! Agriculture in the Desert
July 23 – Drip-Drop: Saving Water
Art History
Learn about the history of these arts in Phoenix, and make your own art! Snacks provided. 
July 26 – Mosaics
Summer Sizzle!  July 30, 10 a.m. – 4:00 p.m.
Join us as we wrap up our Amazing Arizona Kids! summer program with a full day of fun, food, and learning. Educational, hands-on activities… some indoors, others outdoors. Event admission: $5 per person or $15 per family (up to 4 people). Price of admission includes entrance into museum and plenty of programs throughout the day, including:

                 Keeping Cool in the Desert
                             

   Storytime
Crafts: Puppets, Block Printing,

and Sculpture
       

Arizona Rocks! Volcanoes and Mining
  See you at the SUMMER SIZZLE!
Now Open! Copper Mine Exhibit
On display now, the exhibit features a scale model of an Arizona copper mine, and brings to life the process of taking copper ore from the earth in order to turn it into the products we use everyday. Educational videos, interesting facts, mineral and ore displays and Geology Activity Booklets for children – it's all at the AZ Heritage Center!
Wedding and Corporate Event Facility Rentals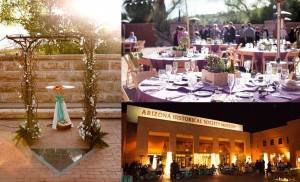 The AZ Heritage Center features a wide array of venue options for your next corporate event, wedding, or gala celebration.
Choose from:
♦ Romantic Brick Courtyard with water feature
♦ Majestic Sandstone Lobby with grand staircase
♦ Bright and airy Courtyard Pavilion
♦ Steele Auditorium (272 capacity)
♦ Brown Theater (50 capacity)
♦ Scenic Desert Terrace
♦ Expansive Orientation Point
Contact our Event Planning Department at 480-387-5367, email: Sbonnett@azhs.gov or visit us on WeddingWire.com.