1300 North College Ave., Tempe, AZ 85281
480-929-0292

Welcome to the AZ Heritage Center, home of the Centennial Museum,
Explore Arizona's history with a tour of our Centennial Museum. Take a trip through time, from western frontier days to war times and the post war building boom. Learn how water makes life possible in the desert, and discover the beauty and variety of Arizona's vast natural resources. Marvel at the breathtaking desert vistas as you wander through our outdoor spaces.
Nestled against the base of beautiful Papago Park, the museum features exhibits spanning more than 100 years of Central Arizona history, making it the perfect place to enjoy the best of Arizona's past and present!
~~~~~~~~~~~~~~~~~~~~~~~~~~~~~~~~~~~~~~~~~~~~~~~~~~~~~~~~~~
More Than A Museum
In addition to the Centennial Museum, the AZ Heritage Center is a cultural center where visitors can participate in a variety of educational and entertaining programming and events for adults and children. Guided and self-guided tours are available for school children and adult groups, and can be customized to meet your needs.
The AZ Heritage Center is also a beautiful and functional event venue, featuring a charming brick courtyard, majestic sandstone lobby, auditorium, theater, and multiple meeting spaces.
Located at the edge of Papago Park in Tempe, near the Loop 101 and Scottsdale Road, our central location is convenient to the metropolitan Phoenix area.
---
HOURS:
Monday – Thursday 10:00 a.m. – 5:00 p.m./Friday & Saturday 10:00 a.m. – 4:00 p.m.
Closed on Sundays
---
Admission:
Adults $12.00; Seniors 65+ $10.00; Ages 7 – 17 $8.00
Children 6 and under – Free; AHS members, Military and Veterans – Free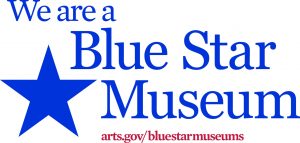 ---
Visit us on

Facebook.

Like and share!

---
Tours
Come explore the amazing history of Arizona! We offer school tours Monday-Friday and guided and self-guided tours for groups of 10 or more people Monday-Saturday.
---
EVENT CALENDAR
Date

Time

Description

Cost

June 26 through July 24,

Tuesdays

10:30 am – 12:00 pm

Amazing Arizona Kids! Storytime with Albert Monreal Quihuis

Free

June 28 through July 26,

Thursdays

10:00 am – 12:00 pm

Amazing Arizona Kids! Explore Arizona series. Rocks, minerals, agriculture and much more!

Free

Jun 27

6:30 pm – 7:30 pm

Charlie Steen – Tonto Monument's First Ranger, presented by Will Moore

$5.00 public/ $4.00 AHS members

RSVP required

July 17

6:30 pm – 7:30 pm

Fort McDowell's Colorful Characters – Part 2, presented by Leonard Marcisz (Sonoran Silver series)

$5.00 public/ $4.00 AHS members and McDowell Sonoran Conservancy Stewards/staff

RSVP required by July 16
---
COMING EVENTS AT THE AZ HERITAGE CENTER
Bring the kids!
FREE
For ages 5 years to 10 years, Tuesdays and Thursdays are full of fun and educational activities!
Tuesdays, June 26 – July 26 – Storytelling 10:30 am – 12:00 pm
Drop in for storytelling with Albert Monreal Quihuis as he reads books from his Sofia and Pepe's Adventures series. Kids will enjoy the stories about Mexican traditions, culture, food and music, along with a craft and snack.
Thursdays, June 28 – July 26 – Explore Arizona 10:00 am – 12:00 pm
Drop in to explore Arizona's fascinating past with hands-on activities. Learn about Arizona's rocks, minerals and volcanoes; ancient Hohokam farming techniques, Arizona art, and much more! Activity and snack included.
Free. Please RSVP to

azheritagecenter@azhs.gov

, or 480-929-0292. To see a flyer about this program, please

click here

.
---
Summer Adult Programs
June 27
Charlie Steen – Tonto National Monument's first Ranger, presented by Will Moore
6:30 p.m. – 7:30 p.m.
Join us as Will Moore presents his biographical sketch of Charlie Steen, Tonto National Monument's first Park Service (NPS) Ranger and important early NPS archaeologist. Learn more aobut this fascinating man as Will explores Charlies work in the Southwest and his contributions to Arizona's early archaeological heritage.
Will Moore retired from the Arizona Education Association in 2010, and has jjust completed his seventh winter season volunteering at Tonto National Monument.
Cost: $5.00 General Public / $4.00 AHS members
---
July 17
Fort McDowell's Colorful Characters – Part 2, presented by Leonard Marcisz
6:30 p.m. – 7:30 p.m.
Back by popular demand! There were so many colorful characters in Fort McDowell's history, that we couldn't cover them all in the first presentation. Join us again for Part 2, as Leonard Marcisz continues his storytelling, and hear more stories about the crazy, dishonest, and downright wacky characters of Ft. McDowell's past!
Part of our Sonoran Silver Series
Cost: $5.00 General Public / $4.00 AHS members and McDowell Sonoran Conservancy staff/Stewards
---
FEATURED EXHIBITS
Opening August 16
A Place for All People, a Smithsonian Institution Poster Exhibition with local stories from Arizona's diverse past
The African American story is one characterized by pain and glory, power and civility, enslavement and freedom. A Place for All People will evoke the power of oration and freedom stories, the brilliance of artistic achievement, and the soaring heights of cultural expression, philosophy, sports, and politics.
This exhibition features 20 posters from the Smithsonian Institution National Museum of African American History and Culture, and is supplemented with displays featuring the local history of African Americans and other minorities in Central Arizona. Throughout the duration of the exhibition, we will offer programming that tells the stories of the challenges and triumphs of the people of the diverse Phoenix communities.
(Photo of George Washington Carver High School, Phoenix, 1942)
---
Now Open through Sept. 18, 2018
100 Years, 100 Ranchers Photography Exhibition by Scott Baxter

Featuring a collection of black and white photographs by renowned photographer Scott Baxter, illustrating 100 years of ranching in Arizona.The photographs provide an intimate look at ranching – the hardships, the relationship between rancher and animal, the isolation, and the beauty.
"The ranching tradition in Arizona is enduring and important…My goal is to recognize the families that have struggled to survive and persevere in these difficult times." – Scott Baxter
See events section for panel discussion series associated with this exhibit.
---
Historical League HistorymakersTM 2017 Exhibit

The Historical League is proud to present the 2017 Historymakers Lobby Exhibit. The exhibit showcases memorabilia, photographs, and video clips from the 2017 Historymakers: Ed Beauvais, America West founder; Wink Crigler, X Diamond Ranch owner; The Honorable Jon Kyl; The Papp Family, supporters of educational institutions, culture and the arts; Robert Spetzler, M.D., renowned neurosurgeon and retired Director of Barrow Neurological Institute; and Dr. Warren H. Stewart, Sr., Pastor of First Institutional Baptist Church of Phoenix since 1997.
---
Wedding and Corporate Event Facility Rentals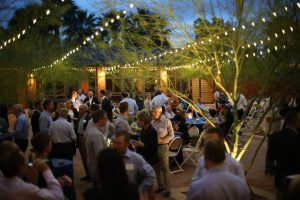 The AZ Heritage Center features a wide array of venue options for your next corporate event, wedding, or gala celebration.
♦ Romantic Brick Courtyard with water feature
♦ Majestic Sandstone Lobby with grand staircase
♦ Bright and airy Courtyard Pavilion
♦ Steele Auditorium (272 capacity)
♦ Brown Theater (50 capacity)
♦ Scenic Desert Terrace
♦ Expansive Orientation Point
Contact our Event Planning Department at 480-387-5367, email DMcKinion@azhs.gov or visit us on

WeddingWire.com.