AZ Heritage Center at Papago Park
1300 North College Ave., Tempe, AZ 85281
480-929-0292

Welcome to the AZ Heritage Center, home of the Centennial Museum,
Explore Arizona's history with a tour of our Centennial Museum. Take a trip through time, from western frontier days to war times and the post war building boom. Learn how water makes life possible in the  desert, and discover the beauty and variety of Arizona's vast natural resources. Marvel at the breathtaking desert vistas as you wander through our outdoor spaces.
Nestled against the base of beautiful Papago Park, the museum features exhibits spanning more than 100 years of Central Arizona history, making it the perfect place to enjoy the best of Arizona's past and present!
~~~~~~~~~~~~~~~~~~~~~~~~~~~~~~~~~~~~~~~~~~~~~~~~~~~~~~~~~~
More Than A Museum
In addition to the Centennial Museum, the AZ Heritage Center is a cultural center where visitors can participate in a variety of educational and entertaining programming and events for adults and children. Guided and self-guided tours are available for school children and adult groups, and can be customized to meet your needs.
The AZ Heritage Center is also a beautiful and functional event venue, featuring a charming brick courtyard, majestic sandstone lobby, auditorium, theater, and multiple meeting spaces.
Located at the edge of Papago Park in Tempe, near the Loop 101 and Scottsdale Road, our central location is convenient to the metropolitan Phoenix area.
---
HOURS:
Monday – Thursday 10:00 a.m. – 5:00 p.m./Friday & Saturday 10:00 a.m. – 4:00 p.m.
Closed on Sunday
---
Admission: Adults $10.00;  Seniors 65+ $8.00; Ages 7 – 17  $6.00
Children 6 and under – Free;   AHS members, Military and Veterans – Free
---
 Tours
For groups of 10 or more, we offer guided and self-guided tours for school children and adults. Have a special request? Let us know – we can create a special program for you. 
For more information call 480-387-5365, or fill out a Tour Inquiry form.
---
March 14


Coffee and Conversation Lecture
Shamans, Jesuits and Revolt in Pachacuti: World Overturned, a talk by Dr. Lori Eshleman

10:00 a.m. – 11:30 a.m.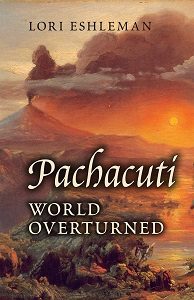 Drawing connections between the historic Southwest and South America, Dr. Eshleman will explore themes of shamanism, Jesuits, and Spanish/Native American encounters in a discussion based on her historical novel Pachacuti: World Overturned. The book documents a revolt in 18th century Ecuador that entwines the lives of a Jesuit, a young Spanish woman, and an indigenous ranch manager.
Lori Eshleman has a Ph.D. in Art History, teaches at Arizona State University, and has lived and traveled extensively in Ecuador.
This event is free to the public. Does not include museum admission. Donations welcome.
March 22
Getting Started with Family History Research: Tips for Beginners, a mini-workshop by Dr. Duane Roen
1:00 p.m. – 2:30 p.m.
How much do you know about your family history? Where were your grandparents born? Great-grandparents? What were their lives like? If you have ever thought about tracing your family's history, but didn't know where to begin, this introduction to family history research is for you! Dr. Roen will describe some readily-available resources, tools and strategies for getting started with researching your roots. This workshop is designed for those who have little or no experience in researching family history.
This event is free to the public. Does not include museum admission. Donations welcome. 
April 11
Coffee and Conversation Lecture
A Dozen Ways to Die in the Desert, a talk by Leonard Marcisz
10:00 a.m. – 11:30 a.m.
This presentation covers unusual ways in which people end up ten toes in the air in the middle of the Sonoran Desert.  It is meant to provide an entertaining education as to how to deal with situations that involve bears, rattlesnakes, gila monsters, scorpions, mountain lions, africanized bees, lightning, heat, extreme cold, base jumpers, loaded weapons and the occasional hostile cactus. Survival tips included.
This event is free to the public. Does not include museum admission. Donations welcome. 
---
Open Now through February 28
At Work in Arizona: The First 100 Years
Open now through Feb. 28, 2017
This photography exhibition, features 100 years of Arizona history, and showcases innovation and commerce, highlighting milestones and achievements throughout the years.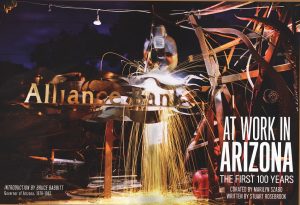 The photographs are stunning – and include portraits of influential Arizonans and celebrities who visited here, as well as iconic buildings, landmarks and events throughout the years. The photograph of the Pat Tillman Memorial Bridge, by Jamey Stillings, is breathtaking.This exhibition is only open through February 2017. Don't miss it!
Exhibit was curated by Marilyn Szabo, and sponsored by Alliance Bank.
Opening March 15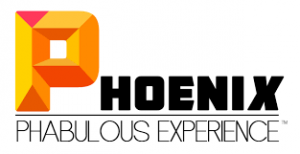 The Phoenix Phabulous History Mural features nine time periods of Phoenix, each artistically represented in a collection of indoor murals. The project was produced by Phoenix Phabulous Experience™ with storytelling collaboration with Phoenix Center for the Arts. The Phoenix Phabulous History Mural encourages visitors, residents, and students to discuss the past, present and imagined future of our city. Scholars, artists, authors, and storytellers of all ages and backgrounds will share presentations about time periods, special topics of interest, and stories that bring together the diverse cultures and communities of Phoenix. Look for related programming in the coming weeks.
---
The AZ Heritage Center has been featured by Tempe Tourism! Check it out:
---
Wedding and Corporate Event Facility Rentals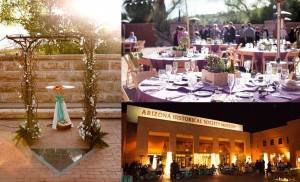 The AZ Heritage Center features a wide array of venue options for your next corporate event, wedding, or gala celebration.
Choose from:
♦ Romantic Brick Courtyard with water feature
♦ Majestic Sandstone Lobby with grand staircase
♦ Bright and airy Courtyard Pavilion
♦ Steele Auditorium (272 capacity)
♦ Brown Theater (50 capacity)
♦ Scenic Desert Terrace
♦ Expansive Orientation Point
Contact our Event Planning Department at 480-387-5367, email DMcKinion@azhs.gov or visit us on

WeddingWire.com.