AZ Heritage Center at Papago Park
1300 North College Ave., Tempe, AZ 85281
480-929-0292

Welcome to the AZ Heritage Center, home of the Centennial Museum,
Explore Arizona's history with a tour of our Centennial Museum. Take a trip through time, from western frontier days to war times and the post war building boom. Learn how water makes life possible in the  desert, and discover the beauty and variety of Arizona's vast natural resources. Marvel at the breathtaking desert vistas as you wander through our outdoor spaces.
Nestled against the base of beautiful Papago Park, the museum features exhibits spanning more than 100 years of Central Arizona history, making it the perfect place to enjoy the best of Arizona's past and present!
~~~~~~~~~~~~~~~~~~~~~~~~~~~~~~~~~~~~~~~~~~~~~~~~~~~~~~~~~~
More Than A Museum
In addition to the Centennial Museum, the AZ Heritage Center is a cultural center where visitors can participate in a variety of educational and entertaining programming and events for adults and children. Guided and self-guided tours are available for school children and adult groups, and can be customized to meet your needs.
The AZ Heritage Center is also a beautiful and functional event venue, featuring a charming brick courtyard, majestic sandstone lobby, auditorium, theater, and multiple meeting spaces.
Located at the edge of Papago Park in Tempe, near the Loop 101 and Scottsdale Road, our central location is convenient to the metropolitan Phoenix area.
---
NEW HOURS EFFECTIVE JANUARY 3:
Monday – Thursday 10:00 a.m. – 5:00 p.m./Friday & Saturday 10:00 a.m. – 4:00 p.m.
Closed on Sunday
---
Admission: Adults $10.00;  Seniors 65+ $8.00; Ages 7 – 17  $6.00
Children 6 and under – Free;   AHS members, Military and Veterans – Free
---
 Tours
For groups of 10 or more, we offer guided and self-guided tours for school children and adults. Have a special request? Let us know – we can create a special program for you. 
For more information call 480-387-5365, or fill out a Tour Inquiry form.
~~~~~~~~~~~~~~~~~~~~~~~~~~~~~~~~~~~~~~~~~~~~~~~~~~~~~~~~~~~~~~
January 19, 6:00 p.m. – 8:00 p.m..: The Fight for Arizona's Martin Luther King Day, a presentation by Dr. Warren Stewart.
The road to establishing Martin Luther King Day as an Arizona holiday was a bumpy one. Join us as Dr. Warren Stewart tells the challenging and triumphant story of how the Arizonan African-American community came together in the 1980s to work towards recognition of the famous civil rights leader. 
Dr. Stewart served as the first General Chairperson for Arizonans for a Martin Luther King, Jr. State Holiday which contributed significantly to the legislative passage of Arizona's Martin Luther King, Jr. holiday on September 21, 1989. Dr. Stewart also organized and led Victory Together, Inc., a broad-based coalition that campaigned for a Martin Luther King, Jr./Civil Rights Day in Arizona which was won by a historic vote of the people in the general election on November 3, 1992. Join us for an interactive discussion and Q&A with Dr. Stewart about this historic achievement and how it relates to current issues. 
Admission to the event is free. Does not include admission to museum. Donations welcome.
January 28
Shock, Disbelief and Outrage vs Elation, Hope and Confidence: Understanding the Social Norms that Created the Political Divide. 
Workshop led by Jennifer L.S. Chandler, Ph.D.
Saturday, 10:00 a.m. – 12:00 p.m.
The recent election left many shaking their heads at how this country could be so far apart in their beliefs – from race to religion to all kinds of social norms. Dr. Chandler helps us make sense of the diverse reactions to the presidential outcome by exploring the three main ways that people interact with dominant patterns of behavior regarding race and other social norms. Using the model presented in her new book, Colluding, Colliding, and Contending with the Norms of Whiteness, Dr. Chandler explains the social processes at work, so people can begin to recognize repeating patterns of behavior regarding these social norms.
This is a workshop format, so participation is limited to 30. Don't miss this opportunity to gain greater understanding of the social and behavioral norms that divide us; an important first step in bridging that divide.
Cost: $10.00 donation requested to offset costs. RSVP required. Email AZHeritageCenter@azhs.gov, or call 480-929-0292. 
February 7
Theodore Roosevelt and the Invention of the Bully Pulpit; a presentation by Dr. Brooks Simpson
10:00 a.m. – 12:00 p.m.
The first in our "Coffee and Conversation" series, Dr. Simpson will explore how Theodore Roosevelt employed presidential power and public opinion to prod a conservative Congress into action, transforming the nature of the presidency. President Roosevelt's presidency and skillful use of the press coincided with technology advancements in film and sound recording. Join us for a fascinating discussion.
Admission to the event is free. Coffee is provided. Does not include admission to museum. Donations welcome.
February 22
"Preservation vs Enjoyment": Debating the Contradictory Mandate that Created the National Parks; a talk by Dr. Eric Nystrom
6:00 p.m. – 8:00 pm
As part of our programming related to our In Celebration of Our National Parks exhibit, Dr. Eric Nystrom will explore the history and language of the Organic Act, which calls for "preservation for enjoyment of future generations". Is it possible to both preserve and allow the public to truly enjoy our national parks? Dr. Nystrom will talk about how that seeming contradiction, influenced the history of the parks in different ways at different times in the last century. 
Admission to the event is free,
and includes a tour of the In Celebration of Our National Parks exhibit. Donations welcome.
Open Now through February 28
At Work in Arizona: The First 100 Years
Open now through Feb. 28, 2017
This photography exhibition, features 100 years of Arizona history, and showcases innovation and commerce, highlighting milestones and achievements throughout the years.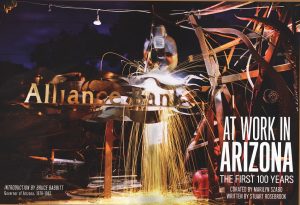 The photographs are stunning – and include portraits of influential Arizonans and celebrities who visited here, as well as iconic buildings, landmarks and events throughout the years. The photograph of the Pat Tillman Memorial Bridge, by Jamey Stillings, is breathtaking.This exhibition is only open through February 2017. Don't miss it!
Exhibit was curated by Marilyn Szabo, and sponsored by Alliance Bank.
Now Open: Phoenix Lights!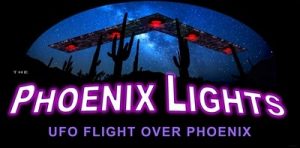 What were those strange lights in the night skies over Phoenix on March 13, 1997? From Henderson, Nevada, across the Phoenix valley, to Tucson and beyond, numerous people reported seeing an enormous object with strange lights. See the flight path, listen to first hand accounts and 911 recordings from that night, and make your own decision…… extraterrestrial spacecraft? military flares? or……??
~~~~~~~~~~~~~~~~~~~~~~~~~~~~~~~~~~~~~~~~~~~~~~~~~~~~~~~~~~~
The AZ Heritage Center has been featured by Tempe Tourism! Check it out:
~~~~~~~~~~~~~~~~~~~~~~~~~~~~~~~~~~~~~~~~~~~~~~~~~~~~~~~~~~~
Wedding and Corporate Event Facility Rentals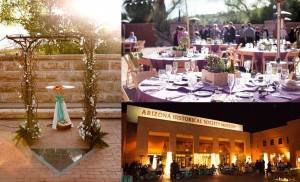 The AZ Heritage Center features a wide array of venue options for your next corporate event, wedding, or gala celebration.
Choose from:
♦ Romantic Brick Courtyard with water feature
♦ Majestic Sandstone Lobby with grand staircase
♦ Bright and airy Courtyard Pavilion
♦ Steele Auditorium (272 capacity)
♦ Brown Theater (50 capacity)
♦ Scenic Desert Terrace
♦ Expansive Orientation Point
Contact our Event Planning Department at 480-387-5367, email Sbonnett@azhs.gov or visit us on

WeddingWire.com.