AZ Heritage Center at Papago Park
1300 North College Ave., Tempe, AZ 85281
480-929-0292

At the AZ Heritage Center at Papago Park, we connect with people by sharing Arizona's history and engaging in meaningful conversations about how history impacts our lives today and tomorrow. 
With a focus on twentieth and twenty-first century history, the Museum exhibits take visitors on a trip through time – from early settlements to World War II and the post-war the rise of desert cities, to Arizona's pop culture. Discover the beauty of minerals and gems from Arizona and around the world, and see a scale model of an Arizona copper mine. While visiting the Museum, take time to enjoy the lush desert landscaping and scenic vistas.
Located at the edge of Papago Park in Tempe, the central location is convenient to most of the metropolitan Phoenix area.
Hours:  
Tuesday – Saturday, 10:00 a.m. to 4:00 p.m./ Sunday 12:00 p.m. to 4:00 p.m.
General Admission:
Adults: $12.00; Seniors +65: $10.00
Ages 7 – 17: $7.00; Ages 6 and under: Free.
AHS members and Veterans/Active Military: Free.
Parking is always free.
Still Getting Our Kicks on Route 66!
February 9th, 1:30 p.m. – 2:30 p.m.
Optional Guided Tour to follow

Known as the "Main Street of America," Route 66 has become a symbol of freedom, of innocence, a reminder of days gone by. Over 158 miles of the original highway are still drivable in Arizona, including the longest unbroken stretch in existence. If you haven't traveled Historic Route 66 in Arizona, or it's been ages since you've immersed yourself in the dazzling landscape and matchless Americana along this famous stretch of meandering highway — this presentation is for you. Our journey will begin at the Petrified Forest National Park on the eastern border of Arizona, then we'll drive west for pleasant stopovers in Winslow, Flagstaff, Williams, Seligman and Kingman. Finally, we'll explore the once booming gold-mining town of Oatman near the California border. Our unique road trip will be filled with breathtaking scenery, memorable people, curious facts, persistent myths, friendly  ghosts and enduring legends that have made Route 66 an integral part of the history of Arizona.
Presented by Bill J. Harrison, "Arizona's Road Scholar"
Tickets: $5.00; AHS members: $4.00. Optional guided tour to follow presentation: $8.00; AHS members: $7.00. Reserve in advance by calling 480-929-0292, or emailing: ahstempe@azhs.gov.
"Boots and Burgers: An Arizona Handbook for Hungry Hikers"    Presentation and book signing by Roger Naylor, author
Served up with an order of sliders*, fries and shakes!
February 11th, 6:00 p.m. – 7:30 p.m.
Author Roger Naylor presents highlights from his recent book, Boots and Burgers: An Arizona Handbook for Hungry Hikers. So much more than a standard guidebook, Boots & Burgers is informative, hilarious, heartwarming, inspiring and mouth-watering. Roger's presentation takes us on an entertaining journey of great hikes and delicious bites, as he sprinkles his discussion with historic tidbits, fast facts and quirky humor.
Here's the idea: Spend a morning hiking into the breath-snatching Arizona outback under a high arched sky. Wander lonesome lands as a twisted trail leads deeper into wilderness. Walk for miles amid an aching stillness. On the drive home stop at a diner or café – a casual joint where the waitress calls everybody 'Hon' and hustles out the drinks. Order the burger. Bite into a grill-kissed slab of tender beef. Now that's living….
Join us on Feb. 11th as Roger entertains us with highlights from his book. Afterwards, indulge in some Boots and Burger inspired munchies – sliders*, fries and shakes. Buy a book (or bring your own copy) and get it autographed.
*Note: Veggie sliders also available.
Tickets: $10.00; AHS members: $9.00. Reserve in advance by calling 480-929-0292, or emailing: ahstempe@azhs.gov.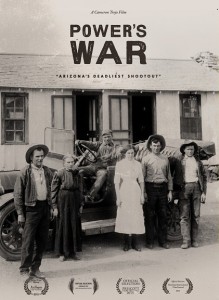 Power's War Documentary Screening
Film screening followed by a Question and Answer session led by Marshall Trimble, Arizona's renowned Historian.
Thursday, March 3, 6:00 p.m. – 9:00 pm.
Deadly Shootout. Conspiracy. Intrigue.
The deadliest gunfight in Arizona did not take place on the streets of Tombstone during its wild territorial days, but rather in a remote canyon of the Galiuro Mountains on a snowy Sunday morning in 1918. Why did eight men fight to the death on that cold winter's morning? Were they fighting over a gold mine? Or was the federal government determined to punish draft evaders with deadly force? Join us for the story of Power's War, the intriguing documentary that explores the circumstances leading up to and following that deadly and controversial shoot out. Visit the documentary website.
The documentary screening will be followed with comments from Marshall Trimble, who will lead the question and answer session. This event has been a sell-out across the state, so don't miss this special presentation at the AZ Heritage Center at Papago Park!
Advance purchase tickets: $10.00; AHS members: $9.00. If purchased at the door: $15.00; AHS members: $13.50. Reserve in advance by calling 480-929-0292, or emailing: ahstempe@azhs.gov.
Now Open! Copper Mine Exhibit
On display now, the exhibit features a scale model of an Arizona copper mine, and brings to life the process of taking copper ore from the earth in order to turn it into the products we use everyday. Educational videos, interesting facts, mineral and ore displays and Geology Activity Booklets for children – it's all at the AZ Heritage Center!
Wedding and Corporate Event Facility Rentals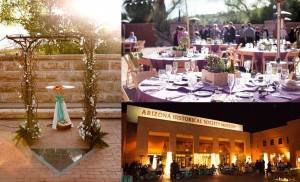 The AZ Heritage Center features a wide array of venue options for your next corporate event, wedding, or gala celebration.
Choose from:
♦ Romantic Brick Courtyard with water feature
♦ Majestic Sandstone Lobby with grand staircase
♦ Bright and airy Courtyard Pavilion
♦ Steele Auditorium (272 capacity)
♦ Brown Theater (50 capacity)
♦ Scenic Desert Terrace
♦ Expansive Orientation Point
Contact our Event Planning Department at 480-387-5367, email: Sbonnett@azhs.gov or visit us on WeddingWire.com.