AZ Heritage Center at Papago Park
1300 North College Ave., Tempe, AZ 85281
480-929-0292

Welcome to the AZ Heritage Center, home of the Centennial Museum,
Explore Arizona's history with a tour of our Centennial Museum. Take a trip through time, from western frontier days to war times and the post war building boom. Learn how water makes life possible in the desert, and discover the beauty and variety of Arizona's vast natural resources. Marvel at the breathtaking desert vistas as you wander through our outdoor spaces.
Nestled against the base of beautiful Papago Park, the museum features exhibits spanning more than 100 years of Central Arizona history, making it the perfect place to enjoy the best of Arizona's past and present!
~~~~~~~~~~~~~~~~~~~~~~~~~~~~~~~~~~~~~~~~~~~~~~~~~~~~~~~~~~
More Than A Museum
In addition to the Centennial Museum, the AZ Heritage Center is a cultural center where visitors can participate in a variety of educational and entertaining programming and events for adults and children. Guided and self-guided tours are available for school children and adult groups, and can be customized to meet your needs.
The AZ Heritage Center is also a beautiful and functional event venue, featuring a charming brick courtyard, majestic sandstone lobby, auditorium, theater, and multiple meeting spaces.
Located at the edge of Papago Park in Tempe, near the Loop 101 and Scottsdale Road, our central location is convenient to the metropolitan Phoenix area.
---
HOURS:
We are closed on February 19, 2018 for President's Day.
Monday – Thursday 10:00 a.m. – 5:00 p.m./Friday & Saturday 10:00 a.m. – 4:00 p.m.
Closed on Sundays
---
Admission:
Adults $12.00; Seniors 65+ $10.00; Ages 7 – 17 $8.00
Children 6 and under – Free; AHS members, Military and Veterans – Free
---
Visit us on

Facebook.

Like and share!

---
Tours
Come explore the amazing history of Arizona! We offer school tours Monday-Friday and guided and self-guided tours for groups of 10 or more people Monday-Saturday.
---
EVENT CALENDAR
Date

Time

Description

Cost

2/13/18

6:00 pm – 7:30 pm

Celebrating Arizona Statehood, with Marshall Trimble and Dolan Ellis

$15 in advance

$20 at the door

2/20/18

6:30 pm – 7:30 pm

Preserving the Past Through Oral Histories, with Dr. Mark Tebeau (ASU)

Free

3/8/18

Museum Hours

100 Years, 100 Ranchers Exhibit Open to Public

with Admission

Date Correction

3/13/18

6:30 pm – 7:30 pm

Architecture and the Senses: Frank Lloyd Wright in Arizona, with Jack Quinan

$5.00 public/ $4.00 AHS members and Frank Lloyd Wright Foundation staff/members

4/18/18

5:30 pm – 8:00 pm

Women in Ranching Panel Discussion (100 Years, 100 Ranchers series)

Free; includes reception. RSVP required

5/9/18

6:30 pm – 8:00 pm

Little Big Horn, presented by Leonard Marcisz (Sonoran Silver series)

$5.00 public/ $4.00 AHS members and McDowell Sonoran Conservancy Stewards/staff

5/15/18

5:30 pm – 8:00 pm

100 Years, 100 Challenges Panel Discusson (100 Years, 100 Ranchers series)

Free; includes reception. RSVP required
NOW OPEN THROUGH MARCH 2018
Footprints on the Desert: Frank Lloyd Wright in Arizona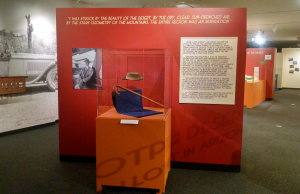 "Footprints on the Desert" is an exhibit featuring notable Frank Lloyd Wright designed buildings in Arizona. Wright's architectural designs reveal painstaking attention to detail, with an intense dedication to sustainability and beauty.
The exhibit includes images and artifacts from Wright's Taliesin West, David Wright House and Harold C. Price House, as well as other Wright designs – including some that were never built. Videos of the Mike Wallace interview of Wright in his later years reveals a man with strong convictions and a passion for his work. Another video features a tour of the Wright-designed Harold Price House. Footprints on the Desert was organized by the AZ Heritage Center in cooperation with the Frank Lloyd Wright Foundation, and in conjunction with Wright's 150th birthday year. We are grateful for the support of many donors, including: Title Sponsor: U-Haul. Other Sponsors: Institute of Museum and Library Services; Historical League; AZ Humanities.
---
COMING EVENTS AT THE AZ HERITAGE CENTER
February 13
Celebrating Statehood Day with Marshall Trimble and Dolan Ellis
6:00 p.m. – 8:30 p.m.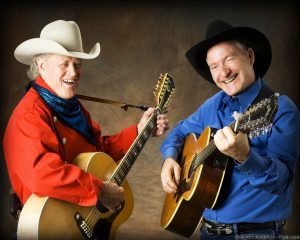 Join us for an entertaining evening of songs and storytelling with two of Arizona's favorite cowboys – Marshall Trimble, Arizona's Official State Historian and Dolan Ellis, Arizona's Official State Balladeer.
Program includes a reception hosted by the Historical League to recognize the 2019 Historymakers.
Come and celebrate Arizona's statehood with us!
Reception: 6:00 p.m. – 6:30 p.m./Historymaker Recognition: 6:45 p.m./Program: 7:00 p.m.
Advance tickets: $15.00 / Tickets at the door: $20.00
Purchase Tickets – For more information Phone 480-929-0292, or Email azheritagecenter@azhs.gov.
February 20
Preserving the Past Through Oral Histories, with Dr. Mark Tebeau
6:30 p.m. – 7:30 p.m.
Listen to America through the voices of former slaves, World War II veterans, and presidents. Learn how oral historians preserve our past by documenting the stories told by the people who lived the history. Capturing an oral history is more than just turning on the recorder; Dr. Tebeau will share best practices for effectively documenting our families, neighborhoods and communities. Join us for an evening of riveting oral histories, and a useful "how-to" for documenting an oral history.
Dr. Tebeau is an Associate Professor of History at Arizona State University, and a member of the Editorial Board of the Oral History Review. An urban, public, and digital historian, Tebeau has directed more than two dozen digital humanities, oral history, and public history projects.
Event is free.
Date Correction:
March 13
Architecture and the Senses: Frank Lloyd Wright in Arizona, presented by Jack Quinan
6:30 p.m. – 7:30 p.m.
Frank Lloyd Wright's architecture is widely known and appreciated through visual means such as photographs, writing, and site visits; this presentation will reach beyond the ocular sense to the senses of sound, touch, and kinesthetic that were newly stimulated by the architect's initial encounter with the Arizona desert in the 1920s. It will be shown that Wright gave the so-called "secondary senses" (so important to all of us) unrecognized consideration in his architecture. The Harold Price Jr. House, the David Wright House and selected buildings at Taliesin West will be explored for the ways that their visual pleasures were enhanced by Wright's attention to what ultimately constitutes the complete human experience.
Jack Quinan (pictured) is an architectural historian specializing in the architecture of Frank Lloyd
Wright, American Architecture and Modernism. He is a founder of the Frank Lloyd Wright Building Conservancy an organization of more than 900 members dedicated to the preservation of Wright's work and he is the Curator Emeritus and a member of the board of directors of Wright's Darwin D. Martin House in Buffalo, NY.
Presented as part of our Footprints on the Desert series.
Cost: $5.00 Public; $4.00 AHS members and Frank Lloyd Wright Foundation members
---
Opening March 7
100 Years, 100 Ranchers Photography Exhibition by Scott Baxter

Featuring a collection of black and white photographs by renowned photographer Scott Baxter, illustrating 100 years of ranching in Arizona.The exhibit features the photography of acclaimed photographer Scott Baxter, and is based on his Centennial book, 100 Years, 100 Ranchers. The photographs provide an intimate look at ranching – the hardships, the relationship between rancher and animal, the isolation, and the beauty.
We are hosting two panel discussions to complement the exhibition:
April 18
Ranching Women: Past, Present and Future
Meet some well-known Arizona women ranchers, and listen as they discuss the past, present and future of ranching in Arizona.
May 15 – Ranching in Arizona: 100 Years, 100 Challenges
Join us as a panel of Arizona ranchers discuss some of the challenges faced by Arizona ranchers – from wolves and wild horses to border issues, government regulations, water usage and sustainability.
Panel discussions are free and include a reception 5:30 p.m. – 6:30 p.m.
Program follows from 6:30 p.m. – 8:00 p.m. RSVP Required.
Historical League HistorymakersTM 2017 Exhibit

The Historical League is proud to present the 2017 Historymakers Lobby Exhibit. The exhibit showcases memorabilia, photographs, and video clips from the 2017 Historymakers: Ed Beauvais, America West founder; Wink Crigler, X Diamond Ranch owner; The Honorable Jon Kyl; The Papp Family, supporters of educational institutions, culture and the arts; Robert Spetzler, M.D., renowned neurosurgeon and retired Director of Barrow Neurological Institute; and Dr. Warren H. Stewart, Sr., Pastor of First Institutional Baptist Church of Phoenix since 1997.
---
Sonoran Silver Exhibit open Now through May 31, 2018
This exhibit celebrates the 25th anniversary of the McDowell Sonoran Conservancy. The McDowell Mountain Preserve in Scottsdale is the largest, and one of the most beautiful, urban preserves in the U.S. Learn the history of the Preserve and the Conservancy, and what the Conservancy does to preserve and share this incredible natural legacy.
---
Wedding and Corporate Event Facility Rentals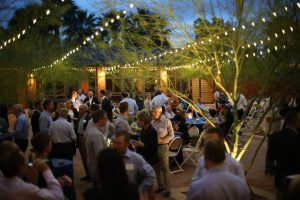 The AZ Heritage Center features a wide array of venue options for your next corporate event, wedding, or gala celebration.
♦ Romantic Brick Courtyard with water feature
♦ Majestic Sandstone Lobby with grand staircase
♦ Bright and airy Courtyard Pavilion
♦ Steele Auditorium (272 capacity)
♦ Brown Theater (50 capacity)
♦ Scenic Desert Terrace
♦ Expansive Orientation Point
Contact our Event Planning Department at 480-387-5367, email DMcKinion@azhs.gov or visit us on

WeddingWire.com.