AZ Heritage Center at Papago Park
1300 North College Ave., Tempe, AZ 85281
480-929-0292

Welcome to the AZ Heritage Center, home of the Centennial Museum,
Explore Arizona's history with a tour of our Centennial Museum. Take a trip through time, from western frontier days to war times and the post war building boom. Learn how water makes life possible in the desert, and discover the beauty and variety of Arizona's vast natural resources. Marvel at the breathtaking desert vistas as you wander through our outdoor spaces.
Nestled against the base of beautiful Papago Park, the museum features exhibits spanning more than 100 years of Central Arizona history, making it the perfect place to enjoy the best of Arizona's past and present!
~~~~~~~~~~~~~~~~~~~~~~~~~~~~~~~~~~~~~~~~~~~~~~~~~~~~~~~~~~
More Than A Museum
In addition to the Centennial Museum, the AZ Heritage Center is a cultural center where visitors can participate in a variety of educational and entertaining programming and events for adults and children. Guided and self-guided tours are available for school children and adult groups, and can be customized to meet your needs.
The AZ Heritage Center is also a beautiful and functional event venue, featuring a charming brick courtyard, majestic sandstone lobby, auditorium, theater, and multiple meeting spaces.
Located at the edge of Papago Park in Tempe, near the Loop 101 and Scottsdale Road, our central location is convenient to the metropolitan Phoenix area.
---
HOURS:
Monday – Thursday 10:00 a.m. – 5:00 p.m./Friday & Saturday 10:00 a.m. – 4:00 p.m.
Closed on Sunday
---
Admission: Adults $12.00; Seniors 65+ $10.00; Ages 7 – 17 $8.00
Children 6 and under – Free; AHS members, Military and Veterans – Free
---
Visit us on

Facebook.

Like and share!

---
Tours
For groups of 10 or more, we offer guided and self-guided tours for school children and adults. Have a special request? Let us know – we can create a special program for you.
For more information call 480-387-5367, or fill out a Tour Inquiry form.
---

It's hot outside, but

COOL

inside!
Enjoy 2-for-1 museum admission every day the temperature is predicted to reach 110⁰ or hotter!
Cool off and discover Arizona History at discounted prices!
---
New Exhibit: Sonoran Silver: Preserving Sonoran Desert Treasures
We are pleased to present Sonoran Silver, an exhibit celebrating the 25th anniversary of the McDowell Sonoran Conservancy. Scottsdale's McDowell Sonoran Preserve is the largest, and one of the most beautiful, urban preserves in the U.S. Learn the history of the Preserve and the Conservancy, and what the Conservancy does to preserve and share this incredible natural legacy. This exhibit is possible as part of a partnership with the McDowell Sonoran Conservancy. As part of this partnership, the Conservancy will display an exhibit created by the AZ Heritage Center, in the exhibit space at the Brown's Ranch Trailhead in north Scottsdale later this fall. We invite you to visit both exhibits! Look for more announcements to come!
---
The AZ Heritage Center has been featured by Tempe Tourism! Check it out:
---
Wedding and Corporate Event Facility Rentals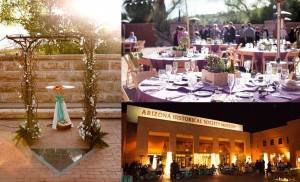 The AZ Heritage Center features a wide array of venue options for your next corporate event, wedding, or gala celebration.
Choose from:
♦ Romantic Brick Courtyard with water feature
♦ Majestic Sandstone Lobby with grand staircase
♦ Bright and airy Courtyard Pavilion
♦ Steele Auditorium (272 capacity)
♦ Brown Theater (50 capacity)
♦ Scenic Desert Terrace
♦ Expansive Orientation Point
Contact our Event Planning Department at 480-387-5367, email DMcKinion@azhs.gov or visit us on

WeddingWire.com.