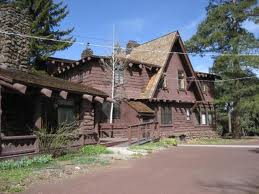 Riordan Mansion State Historic Park
409 West Riordan Rd
Flagstaff, AZ 86001
Phone: (928) 779-4395
For more information about the Mansion, and events taking place there, visit the Arizona State Park's website for Riordan Mansion.
Hours:
May – October Open Daily 9:30 a.m. to 5:00 p.m.
Tours on the hour: 10:00 a.m., 11:00 a.m., 12:00 p.m., 1:00 p.m., 2:00 p.m., 3:00 p.m. and 4:00 p.m.
November – April Open Thursdays through Mondays 10:30 a.m. – 5:00 p.m. closed Tuesdays and Wednesdays.
Tours on the hour: 11:00 a.m., 12:00 p.m., 1:00 p.m., 2:00 p.m., 3:00 p.m. and 4:00 p.m.
General Admission for Tours (Reservations highly recommended):
Ages 14 and older: $10
Ages 7 – 13: $5
Ages 6 and younger: free
AHS Members: free
Riordan will honor State Park Passes
The house was built in 1904 for two Riordan families. The historic building is an Arizona treasure — a remarkable example of Arts and Crafts style architecture featuring a rustic exterior of log-slab siding, volcanic stone arches, and hand-split wooden shingles. The Riordan residence was designed by the creator of Grand Canyon's El Tovar Hotel, Charles Whittlesey.