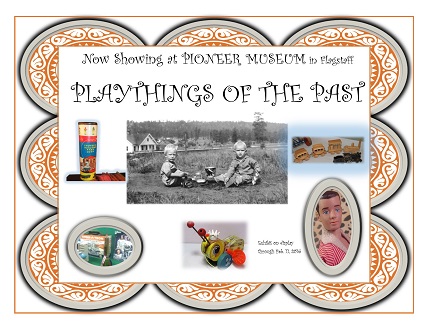 The Pioneer Museum in Flagstaff is located in the historic Coconino County Hospital for the Indigent. The Hospital was built in 1908 using pumiceous dacite from the Mount Elden Explosive Eruption about 500,000 years ago. The building was used as a hospital until 1938 and was considered a Poor Farm. The exhibits within the museum reflect the history of Flagstaff and northern Arizona. Visitors will learn of the local history of ranching, logging, transportation and life in Pioneer Flagstaff. Festivals and events are also held on the grounds including the annual Wool and Fiber Festival, the Folk Festival and the Heritage Festival.
2340 N. Fort Valley Road
Flagstaff, AZ 86001
Phone: 928-774-6272
Email: wpeterson@azhs.gov
Hours:
Monday – Saturday: 10:00 a.m. – 4:00 p.m.;
Closed on
Sundays and most state holidays between September and May.


General Admission:
Adults: $6.00
Ages 65+: $5.00
Adult Students with I.D.: $5.00
Ages 7 – 17: $3.00
Ages 6 and under: Free
AHS Members: Free
Two-for-one admission the first Tuesday of each month.