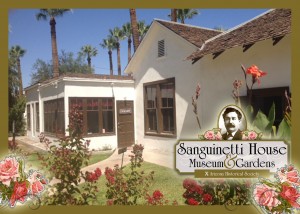 Come Visit Us!
240 S. Madison Avenue,
Yuma, AZ  85364
Museum Phone: (928) 782-1841
Tour Line: (928) 782-1842
Email: AHSYuma@azhs.gov

OPEN:
Tues – Sat, 10:00 a.m.-3:00 p.m.
Sanguinetti House Museum and Gardens

In the heart of historic Yuma is the charming 19th-century adobe home of E. F.  Sanguinetti (1867-1945).  This quaint home is now an Arizona Historical Society museum chronicling Sanguinetti's life story, as the Merchant Prince of Yuma.
New in 2016 is the featured exhibit, Ghost Town, celebrating ghost towns across Yuma County.  Come, get a glimpse of life in these 19th century towns—before they became ghosts.
Visit the museum and hear stories of how Sanguinetti came to Yuma penniless at just 15. He quickly grew to become a civic-minded businessman whose various enterprises—electricity, ice house, ranching, farming, merchandizing, banking, and real estate—advanced his own well-being and that of the community he loved.
Enjoy all the Sanguinetti House Museum and Gardens has to offer:
General admission to the Sanguinetti House Museum and Gardens is $5.  Seniors receive discounted admission of $4.  Children ages 12 and younger with family are free.  AHS members are free.
For school or group tour rates, please call 928-782-1841 or email ykruse@azhs.gov.